The week of October 18-23, 1926 Houdini was at the Princess Theatre, Montreal Canada.  It was on October 22, 1926 that Houdini got punched in the dressing room of the theatre.  According to Silverman, the dressing room was small, about eight feet by ten.  What follows is a Montreal Daily Star newspaper ad from my personal collection that is reported to be Houdini's last interview in October 1926.  This interview by Viola Cameron would have taken place in the dressing room at the Princess Theatre during the week Houdini was there.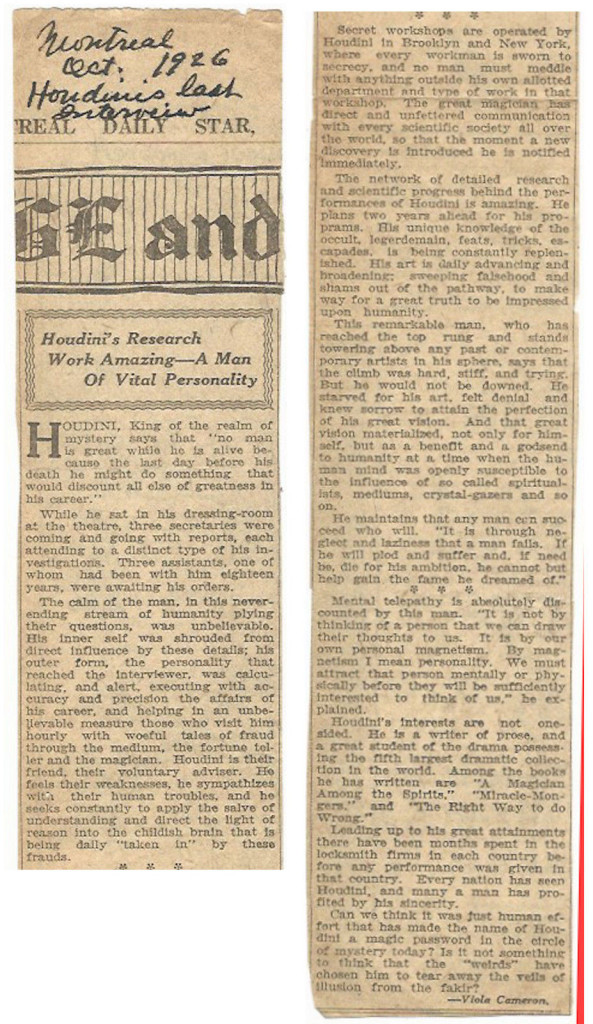 Viola Cameron interviews him in his dressing room with folks coming and going:  "three secretaries" with reports on his investigations and "three assistants" awaiting  his orders.There was also mention of him, "helping in an unbelievable measure those who visit him hourly with woeful tales of fraud through the medium, the fortune teller and the magician. Houdini is their friend and their voluntary advisor".
The opening quote by Houdini is also of interest: "no man is great while he is alive because the last day before his death he might do something that would discount all else of greatness in his career".
Houdini died shortly after this interview on October 31, 1926.
Thoughts?