I recently came across an excellent article, Doyle, Houdini and The Strand Magazine By Stephen Forrester, where I found something that intrigued me:
Long before Houdini met Sir Arthur Conan Doyle, he wrote a letter to Sherlock Holmes:

"Characterless men," had taken names similar to his and were stealing, "The fruits of my brain work, and years of research for new tricks. They are trying to get rid of me, by either crippling me for life or even going to the extreme of taking my life in cold blood."

Some men had broken into Houdini's trunks in Germany and were trying to bribe his loyal assistant. Houdini had no intention of mailing this letter, but it appeared as an illustration in Der Kettensprenger Houdini und der Welt-Detektif (Dec./1908) an anonymous paperback thriller published in Berlin. According to the story, Holmes crossed the channel, took a train to the German capital and soon had the criminals behind bars.
A quick search and I discover that mega Houdini collector Arthur Moses has a copy of this very rare 1908 paperback (Dec 22, 1908. n101) with an image of the cover and description in his Houdini Periodical Bibliography which he has graciously given me permission to share.
The Pulp magazine title (Der Kettensprenger Houdini und der Welt-Detektiv) translates as "The Lock-breaker Houdini and the World Detective."  And Auf den Spuren Houdinis" translates as "On The Trail of Houdini". In this short story, Houdini and his friend Sherlock Holmes get involved in a mystery and end up saving each others lives.
So Houdini and Sherlock Holmes were friends in 1908 according to the story, but when did Houdini really first meet Conan Doyle, creator of Sherlock Holmes?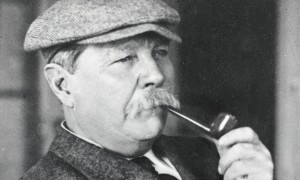 Answer:
Soon after arriving in England in early 1920, Houdini dispatched a copy of his book The Unmasking of Robert-Houdin to a cold list of some 200 of the country's leading figures which included Doyle.
On March 15, 1920 Doyle wrote and thanked him for the book.
Houdini and Sir Arthur Doyle exchanged a number of letters during this period:
"Am only too delighted to correspond with you", he wrote on April 3rd, the trigger for Doyle's invitation to lunch which Houdini received on April 11th.  Houdini instantly replied by telegram on April 12th, "[I] will avail myself of the opportunity of calling on you Wednesday morning, … Mrs. Houdini is with me, but will not be able to come at the present time, and wished to thank you for your kind thought."
On Wednesday Apr 14, 1920 Houdini visits Sir Arthur and Lady Conan Doyle at their home at Windlesham, Crowborough and the rest is history.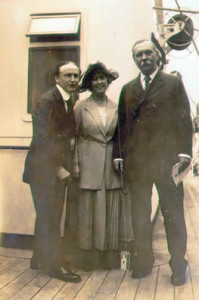 Bonus:
Early in May 1920, the Conan Doyles traveled to see Houdini on stage at the London Palladium, where he escaped from a series of straitjackets, performed the Upside Down, and told the audience of his "many terrifying close calls" on the set of The Grim Game, before finishing on a mildly anticlimactic note with a conjuring trick he called the "Cut and Restored Turban".
BTW: Conan Doyle attended a New York Screening of The Grim Game, and declared himself impressed.
Source:
Masters of Mystery: The Strange Friendship of Arthur Conan Doyle by Sandford
Houdini and Conan Doyle by Ernst and Carrington
The Illustrated Research Diary by Koval
Update:
The original pulp dime-novel series that later became Harry Dickson (The American Sherlock Holmes) began in Germany in January 1907 under the title of Detective Sherlock Holmes und seine weltberühmten abenteuer (Sherlock Holmes' Most Famous Cases), published by Verlagshaus für Volksliteratur und Kunst, and comprised 230 issues in total, published until June 1911. The name Sherlock Holmes was actually used for the first 10 issues. After some concern about the rights of Sir Arthur Conan Doyle, the series was retitled Aus dem Geheimakten des Weltdetektivs (The Secret Files of the King of Detectives) with No. 11, even though the main character was still called Sherlock Holmes inside. Holmes' Doctor Watson sidekick, however, was a younger man named Harry Taxon. Issue No. 101 (Dec 22, 1908) had the original series title, Der Kettensprenger Houdini und der Welt-Detektiv (The Lock Breaker Houdini and the World Detective), which was later released in other languages (e.g., Danish, Dutch, French, Romanian, Spanish)