Although the Grim Game was first shown privately and publicly in August 1919, it was not officially released until October 12, 1919. And that's when it first appeared in San Francisco with live orchestra music on October 12, 1919 at the Portola Theatre located at corner of Market Street and 4th.
96 years later, December 5th at 3pm, you can see the restored film with live piano music by Donald Sosin at the San Francisco Film Festival at the Castro Theatre located at 429 Castro Street at Market Street.  You can buy a full day pass to "A Day of Silents" or an individual ticket to "The Grim Game".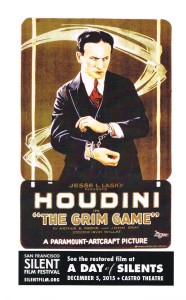 I highly recommend seeing it on big screen.  I was fortunate enough to see the TCM premier in Hollywood on a big screen with live orchestra music, as well as on a big screen at the Houdini Museum.  Two amazing experiences that I will never forget.
Check it out in S.F.!
You'll enjoy it thoroughly.
Bonus: