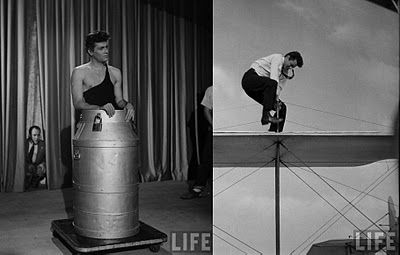 While looking through the production 11495 department records (In Search of the Lost Plane to Plane Transfer) at the Margaret Herrick Library Academy of Motion Picture Arts and Sciences, I came across some very interesting correspondence WRT to Paramount trying to locate some original Houdini material for use in the 1953 movie starring Tony Curtis and Janet Leigh. Below is the text from a letter dated May 22, 1952 from Julien J. Proskauer (Theo Hardeen's closest friend, past publisher of Conjurors Magazine and co-founder of Magicians Guild) to Mr. Gordon Cole of Paramount Pictures, Inc:
Dear Mr. Cole:

I am sorry that I did not get this issue of Conjurors' Magazine off to you earlier.  It was very difficult to find a copy which was not defaced too much.

You will find on page 8 a copy of the only picture made with Hardeen and Houdini in an early model Winton motor car. On Page 13 is the story of the Milk Can which I referred.

You may recall that I mentioned the "Book of Life." On pages 20 and 21 is the story of this illusion, and on page 35 is the complete working diagram showing the girl inside of the binding of the "Book." Houdini and Hardeen had discussed this illusion as early as 1920 but nothing was done with it until a few months before Hardeen's death, when we took the original working diagram from Houdini's confidential books (found in a trunk at Hardeen's home) and all of us doped out that which you see here.

Incidentally on page 23 is an accurate photograph of the original "overboard box." This was the so-called "break away"which for many years was used by both Houdini and Hardeen.

Of great interest in the same issue is the picture of Houdini on page 22 in the Milk Can Escape pictured in full detail on page 1 of the book. This was the Milk Can Escape that Houdini made famous.  The original can is for sale at this date.

My interest, as I explained to you, is solely that of insuring that the picture is correct. On page 12 of this issue are the handcuffs that Hardeen inherited from Houdini and are now in the possession of members of the Magicians' Guild. Mr. Dunninger is not a member of the Guild and does not own any of these handcuffs.

I trust that this letter is quite explanatory both as to the existence of Houdini material as shown on page 40 and throughout this entire issue.  I shall be glad to put you in touch with Douglas Geoffrey "Hardeen, Jr."who owns all rights and titles to the "Houdini-Hardeen Show."

Sincerely,

Julien J. Proskauer
Note: During Houdini's life, no one ever escaped, or was permitted to escape, from the Houdini milk can. Hardeen built a second milk can which was gimmicked in 1928. No one ever used this can or knew the secret beside Jim Collins until in 1930, Theo Hardeen taught the escape to Julien J. Proskauer, who in later years became a co-founder with Hardeen of the Magicians Guild. Mr. Proskauer made the escape countless times using Jim Collins as his Assistant. [Page 13 Conjurors Magazine No. 6 July 1945]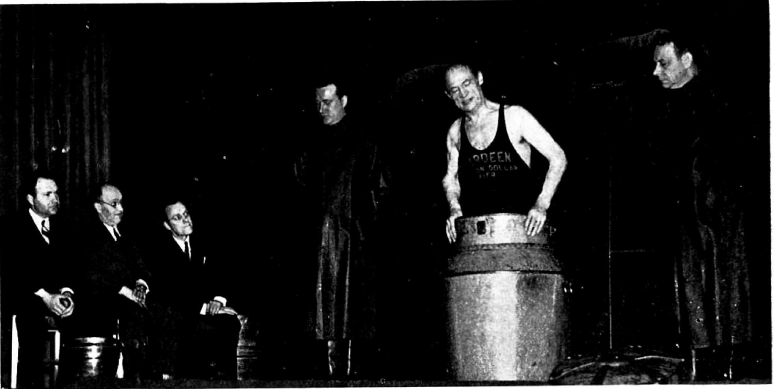 The photograph above shows,- Hardeen making the escape with Douglas Geoffrey and Jim Vickery as his Assistants.
In Search of Original Houdini Material for 1953 Houdini Movie, Part 2 of 2 will include correspondence WRT obtaining Houdini's original Water Torture Cell(s).