The following amazing magical work of art that was estimated to sell between $1,200/$1,500 just sold yesterday at Potter & Potter Auctions for the starting bid of $600.00.  Congratulations to the winner.  BTW, I was the winner.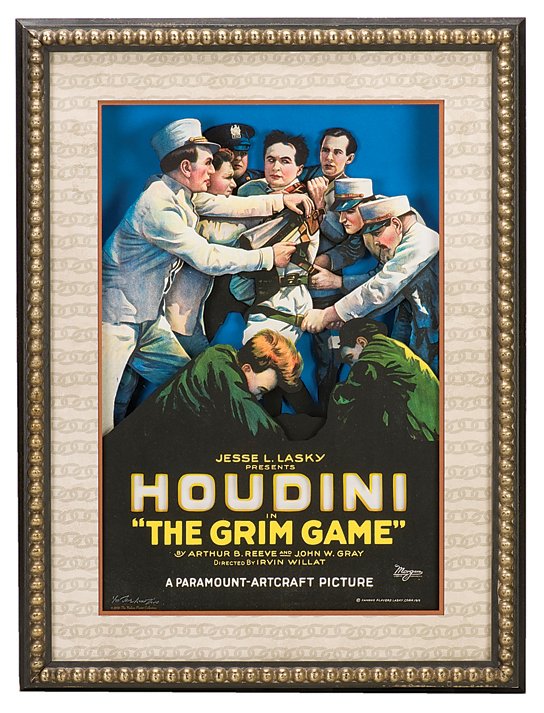 366. Houdini, Harry. Grim Game Dimensional Giclée Print. American, 2006. By Dave Avanzino. Number 1 from a signed and numbered edition of 10. Recreating a three-dimensional version of the color lithograph advertising Houdini's silent film, The Grim Game. Handsomely framed to an overall size of 18 ¼ x 24 ¼". Signed and numbered by the artist. Fine condition.
This artwork originally debuted at the Los Angeles Conference on Magic History in November of 2007 with remaining pieces offered to the rest of the magic community via ads in magic magazines like Genii (e.g., Vol 71 Issue 3 and 5). The listing price in the ads was $1200 each.
Mixed Media and famed Disney Artist David Avanzino used this beautiful rich piece to create a unique dimensional scene where the characters seem to come alive and float in space.  Each element has been hand cut by the artist and, after painting the edges of each piece, he assembled them in a shadow box of amazing dimensionality.
The classic poster image was reproduced from the library of Nielson Magic Posters with their permission.  All of their posters are scanned directly on 1:1 proportion from the original.