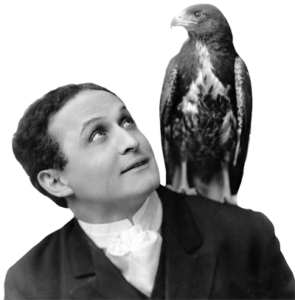 In honor of Memorial Day in May and Flag Day coming up in June, I thought I would do a quick post on Houdini's "Whirlwind of Colors".
This is the effect where Houdini turned a massive production of silks into a patriotic, get-on-your-feet extravaganza.
He performed it during the patriotic review show "Everything" at the Hippodrome during the 1918-19 season. Houdini did the silks from fishbowl production and produced a tame American eagle named "Abraham Lincoln" from the folds of a giant American flag. In reality, it was actually a red-tailed hawk passed off as an eagle that he trained himself.
This was also the last trick that Houdini performed onstage in 1926. That is for a finale, he drew from a small crystal bowl of colored water hundreds of yards of silken streamers and lastly a string of flags of all nations. Houdini collapsed at the end of the first act and this trick was actually finished by his assistants when Houdini was rushed to the hospital.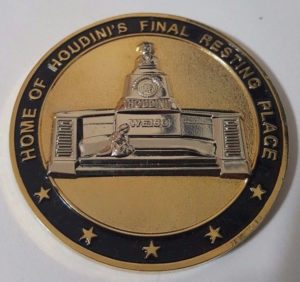 Source: John Cox, Patrick Culliton and Roger Dreyer
UPDATE:  Fred Pittella just let me know that Houdini's Whirlwind of Color is safe with him.  This is how it looked when Bessie, Hardeen and Jimmy Collins performed it.
And this is how it looks today in Fred's Houdini & Escapes museum.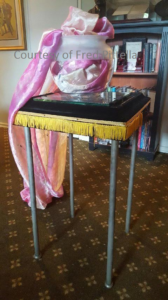 Special Thanks to Fred Pittella for allowing me to share.
Related: