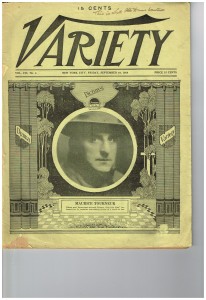 Below is an original Grim Game ad from a rare Variety Magazine that I just acquired. Variety was established in 1905 when it was launched as a weekly periodical covering vaudeville with its headquarters in New York City.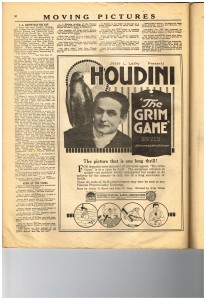 The picture that is one long thrill!
For dramatic entertainment of universal appeal, "The Grim Game" is in a class by itself.  The aeroplane collision in midair – an accident wholly unexpected but caught in its entirety by the camera – is only one of a long succession of thrills.
These six reels of thrill-entertainment may now be seen at any Famous Players-Lasky Exchange.
Story by Arthur B. Reeve and John W. Gray Directed by Irvin Willat
What makes this ad so cool is the following:
The date of the Magazine is September 19, 1919 (9 19 1919)
The page number that this ad appears on his page 52
It has an image of Houdini and his pet "Abraham Lincoln"
It has 4 roundel pictures of scenes from the film
Enjoy!