On Monday, August 11th, John Cox at Wild About Harry informed us that the official website for HISTORY's Houdini miniseries had launched an online quiz testing your knowledge of Houdini.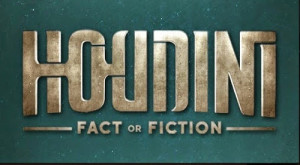 I was intrigued by the comments on the following quiz question:
Houdini competed in the Olympics?  FACT or FICTION
ANSWER: FICTION – A talented amateur athlete, Houdini unsuccessfully tried out for the U.S. swim team.
Okay, FICTION, he did not compete in the Olympics, but did he really try out for the Olympics and if so, was it for the U.S. swim team, track team, or boxing team?
The excellent biography on Wild About Harry mentions that at one point he tried out for the U.S. Olympic team, but doesn't mention what sport.
Another houdiniphile, recalls that Houdini was asked to try-out for the Olympic track team, but turned it down because there was no money in it.
And yet another houdiniphile, recalls that Houdini didn't try out for the first modern Olympics in swimming or track. He tried to make the boxing team but he got the flu and couldn't compete in the final trials and a boy he had previously beaten went in his weight class.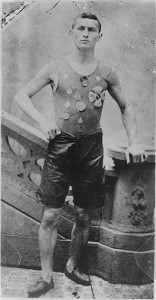 A quick search of the internet reveals the following:
Houdini For Kids:
Ehrich joined an athletic club, the Pastime Athletic Club, where he could make friends and enter competitions. He became so good that he tried out for the U.S. Olympic swim team, but he didn't make it. At age 16 he won a prize in the American Amateur Athletic Union one mile race, and at 18 he set a record for a run around Central Park and defeated an English champion in a 20-mile race. Ehrich also enjoyed gymnastics, and in New York he began learning to box. By age 17 he was good enough to compete in amateur boxing matches, aiming for the 115-pound championship, which could have launched him in a boxing career. He became ill, however, and couldn't complete the finals. The boy who won the championship had already lost to Ehrich in an earlier bout, so Ehrich might have won the match.
Kalush:
In New York, Harry expanded his athletic interests.  Besides gymnastics, he began to box, and by the time he was seventeen, he was tough enough to compete for the 115-pound boxing championship of the Amateur Athletic Union, oftentimes a segue to a professional boxing career.  Illness intervened and knocked him out of the finals, but he had already defeated the boy would go on to win the medal.  He also took up long-distance running, and when he was eighteen, he set the record for the run around Central Park.  Around the same time, he defeated Sidney Thomas, an English champion, in a twenty-mile race.  Thomas would later set world records for ten-, fifteen-, and twenty-mile races.
The first source above, along with some random internet references are the only ones I could find that mention the U.S. Olympic swim team. Neither Silverman nor Kalush mention anything about the Olympics.
The above two sources along with others confirm the fact that he couldn't compete in the finals of the Amateur Athletic Union (AAU) Boxing Championship in 1891.   So who won the 115 pound championship in 1891 that Houdini had once beat?
Boxers who have won the National AAU (United States) Amateur Bantamweight Championship. The weight class was contested at 115 pounds between 1889 and 1921. It was then contested at 118 pounds between 1922 and 1951, before moving to 119 pounds in 1952. In 2010, it was moved to 114 pounds, as as the Light flyweight class was eliminated, and the flyweight cost was shifted to a lower weight.
1888 – W. Rocap, Philadelphia, PA
1889 – W. Rocap, Philadelphia, PA (spring), W. Kenny, NJAC (winter
1890 – B. Weldon, New York, NY
1891 – G.F. Connolly, Boston, MA
1892 – Not held
1893 - Michael J. Hallihan, Philadelphia, PA
1894 – R. McVeigh, SAC
1895 – E. Horen, Pittsburgh, PA
1896 – J.J. Gross, New York, NY
1897 - Charles Fahey, Rochester, NY
1898 – Not held
The Amateur Athletic Union (AAU) worked closely with the Olympic movement to prepare athletes for the Olympic Games. However, there were no Olympics in 1892. 1892 is when the idea to start the Olympic Games again was first brought up.  In 1894, the International Olympic Committee (IOC) was founded and began planning. The first modern Olympics did not take place until 1896 on a very special day.
Today in History, April 6th:  First modern Olympics opens in Athens; This is also the day that Harry Houdini celebrated his birthday.
Ironically, when the modern-day Olympic Games resumed in 1896, the Athens committee didn't include boxing as the sport was deemed too dangerous. Boxing was welcomed back to the Olympics in 1904 in St. Louis, as the sport had become very popular in America. The U.S. won all the medals that year, as it was the only country to enter a boxing team. In 1912, in Sweden, boxing was omitted again, since that country's national law banned it. By 1920, boxing was here to stay.
However, swimming and bicycling was part of the first modern Olympic games in 1896 for the first time.
So, FACT or FICTION (Legend),
Did Houdini try out for the Olympics?
If you have any additional information on this, please comment or send me an email.