I thought I would share a tricked photograph of Houdini that I came across recently.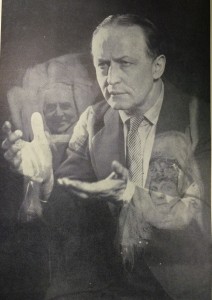 To debunk the "spirit photographs" that mediums were claiming as proof of their communication with the dead, Houdini manufactured his own.
I wasn't sure if I had ever seen this tricked photo before.  I searched my library of Houdini books and found similar but different photos of Houdini with the same "Spirit Extras".
Christopher's Houdini a Pictorial Life p 177
Kalush's The Secret Life of Houdini Laid Bare p 248
Neither Christopher nor Kalush identify the so-called "Spirit Extras".
Christopher refers to it as the last tricked "spirit" photograph of Houdini in 1926.
Who are the spirit extras?  Feel free to guess. Bragging rights for the first one to get it correct in the comments.