First Production Which Will Be Made Is From An Original Story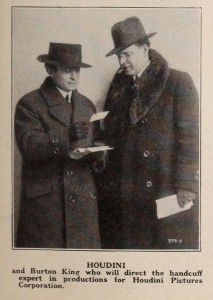 The choice of director for Houdini in his first picture for his own producing company, Houdini Picture Corporation, has fallen to Burton King, a director with a noteworthy record.
Mr. King began directing ten years ago when, for Thomas H. Ince, he produced, "The Battle of Gettysburg," "A Southern Cinderella," "The Pride of the South" and a number of other Ince pictures. Since then he has directed for Famous Players, Metro, World Film Corporation, Vitagraph, Universal, Lubin, Selig, B.A. Rolfe and for his own company, Burton King Production.
Among his better known later day pictures are "The Spell of the Yukon," "The Last Battalion," "The Master Mystery," in which Houdini made his film debut; "The Soul of a Magdalene" and "Silence Sellers"
His first picture for the Houdini Picture Corporation will be made from an original story by Houdini bearing the working title of "The Far North." [AKA The Man From Beyond]
Source: April 16, 1921 Exhibitor's Herald