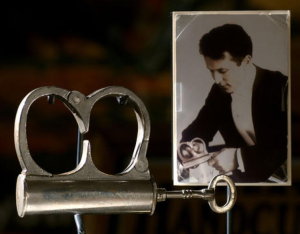 The David Copperfield (DC) mirror cuff (shown above) is nearly always shown with its best side – with less plating missing.  It is believed that the Harry Houdini (HH) image in the photo was flipped to mirror it.  All other advertisements and postcards that I have seen, have the photo of HH holding the DC mirror cuff facing the other way without a date written on it.
This photo in DC's museum has 1904 written on it, so does that mean it was taken in 1904? That's what we are led to believe.  Note: March 17th, 1904 is the date of the famous Daily Illustrated Mirror Challenge.
Well, if we flip the photo (see below) to be facing the original way, 1904 becomes 4091.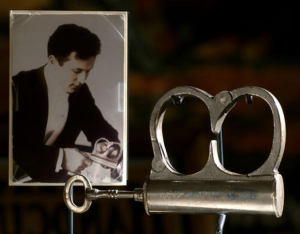 So what does this mean?
Not sure, but we need to find when this image or a similar image was first seen.   Below is the first image, that I was able to find.  It has 1907 written on it, but it is actually from 1909. So far, not so good for 1904.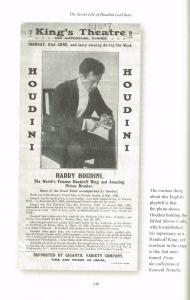 However, below is a clearer image of him "sitting in a chair", with the DC mirror cuff, but it is not dated.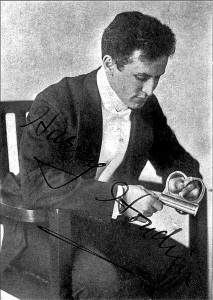 If we examine his 1904 pitch book cover below of him "sitting in a chair", it may very well be the same suit, hair, and chair as the image of him holding the DC mirror cuff.
The below postcard which sold at auction for $474 and matches the image on the 1904 pitch book shows it much more clearly, and it definitely appears to be the same suit, hair and chair and could have been taken during the same photo session in 1904.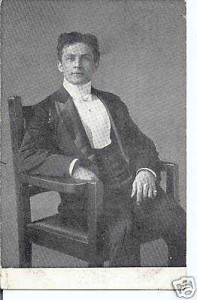 Epilogue: On Saturday May 14th, 1904 Harry Houdini (HH) was presented with the solid silver manacle.  The solid silver manacle was always thought to be pictured in the photo with HH sitting, but we now know that it is really the DC mirror cuff.  HH obviously doesn't want us to know that this is the DC mirror cuff, which could explain why he is covering the key hole and the center of the cuff in the photo. On March 20, three days after the challenge, Houdini offered a challenge to the Mirror that he would offer 100 guineas to anyone else who could get out of the cuffs with him present, which implies to me that HH was not supposed to be in possession of the DC mirror cuff. That said, it is likely that this photo with the DC mirror cuff was taken before he officially received the solid silver manacle and may have even been taken during his London engagement at the Hippodrome.
Related Posts:
Update: The photo from the 1904 pitch book also appears in The Unmasking of Robert-Houdin as well as a similar image in Silverman which was signed by HH on Aug 1904:
Update 2: