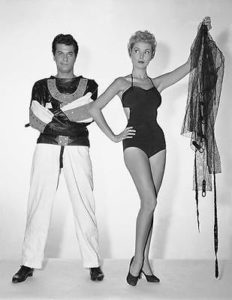 These photos are currently available on eBay as a buy it now for $14.99 plus $4.50 shipping:
Four years ago, I was fortunate enough to see all of the Special Collection Photographs for Paramount's 1953 Movie "Houdini" (starring Tony Curtis and Janet Leigh) at the Margaret Herrick Library.  These included similar photographs from the Janet Leigh Collection, but different than those offered on eBay.
There are also some similarly priced eBay photographs of Tony Curtis in a milk can that I haven't seen before:
Enjoy!