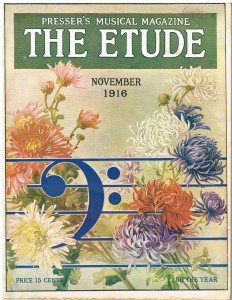 By chance, someone that my spouse knows (while cleaning out their garage) came across a magazine (Presser's Musical Magazine: THE ETUDE) from November 1916 that contained a letter (The Last Days of Stephen Foster) written by Harry Houdini.  They offered the magazine to my spouse knowing that I was interested in information on Harry Houdini.
Apparently Houdini's search for data to enlarge his collection of literature pertaining to drama, minstrelsy and stage magic put him in position to shed light on Foster's last  days.
Below is the Editors Note:
After the publication of the September issue THE ETUDE, which was devoted in part to the life and works of Stephen Foster, we received the following letter from Mr. Harry Houdini.  Mr. Houdini is so well known in the vaudeville world for his singular skill in unfastening the most artfully contrived "locks, bolts and bars" that he needs no special introduction.  This letter reveals him in a new light, however, and our readers will surely appreciate his valuable contributions to the small stock of information available regarding the composer of Old Folks at Home, My Old Kentucky Home and a generous percentage of America's small stock of native folk songs. In preparing our special Foster issue, we ransacked every known source of information, and published all we received that came from reliable sources.  Certain small discrepancies existed in the varying statements, but this is not to be wondered at. No facts were published at the time of Foster's death, and in consequence we are dependent on hearsay and the memories of those who were near him at the last – fifty two years ago.
Click here to read the letter from Houdini to the Editor of The Etude regarding The Last Days of Stephen Foster.