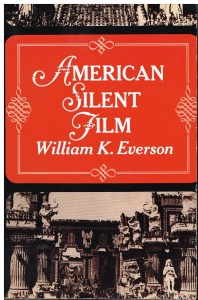 Last Week, by sure coincidence (after seeing "The Incredible Burt Wonderstone movie"), I ended up at a used book store that was going out of business on March 24, 2013 (Houdini's 139th Birthday).
While I didn't find any books on Houdini, I did a find an interesting book (American Silent Film by William K. Everson) that had a brief mention of The Grim Game on pages 109 and 110 that I found very interesting.  Below are some snippets from these pages:
The block-booking system – This was a system by which the distributor sold an exhibitor an entire season's product en masse, often sight unseen, since when the contract was signed, many of the films had not yet been made.  In order to get the films he wanted, the exhibitor also had to take many he did not want – in his eyes, the "bad" films. While the exhibitor's resentment of his lack of freedom of choice was understandable, so was the distributor's position.  As a group, exhibitors have always tended to prefer the safe and the tried-and-true over the off-beat and experimental.  Given total freedom of choice, most exhibitors would obviously book only the kinds of films and the star vehicles that they knew were box office.  The distributor, admittedly, used the block-booking system to salvage, the mistakes and the bad films.  On the other hand, many of a distributor's best films might wind up on an exhibitor's "reject" list, and would have had sparse showings indeed, had they not been forced into exhibition via the block-booking system. For example, exhibitors dealing with Paramount in 1918 and 1919 would have been clamoring for the latest releases of Douglas Fairbanks, William S. Hart, and Mary Pickford but, left to their own devices, would probably have by-passed The Grim Game (an unusually well-done melodrama starring Harry Houdini and directed by Irving Willat).  Forcing unwanted pictures onto a contract in a sense by-passed the exhibitor, bringing to the public a kind of film that the distributor thought it would buy if only it had the chance.
Paramount's Wallace Reid vehicles were enormously popular, mainly because of Reid's unique appeal.  Knowing this, Paramount literally ground them out, economically, quickly, and with so little imagination that they all seemed cut from an identical mold. Had they not had the Reid name to sell them, they would certainly have been on an exhibiter's reject list. Films like The Grim Game, might not have attracted audiences on the same scale as the Reid films, but once in the theatre, it satisfied and surprised them, and told them that the movies were still capable of something fresh.
Thanks to the Block-booking System, audiences got to see an unusually well-done melodrama.