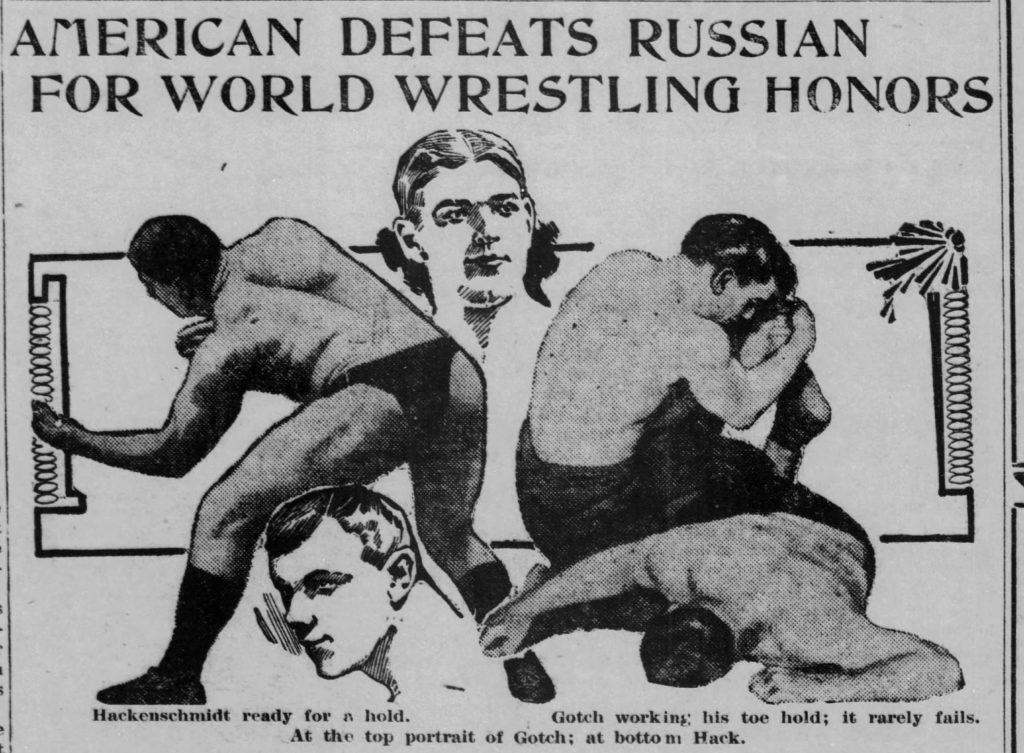 On April 3rd 1908 in Chicago, Frank A. Gotch defeated George Hackenschmidt the "Russian Lion" in an international wrestling match for the champion of the world.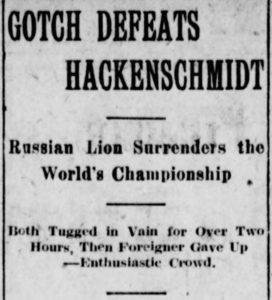 Well supposedly in 1906, Houdini Defeated Hackenschmidt.   Let's take a closer look.
According to Solomon in Disappearing Tricks:
The year 1906 also marks one of the earliest documented uses of cinema by Houdini. In March, a film listed as Houdini Defeats Hackenschmidt was shown immediately after Houdini's performance at Keiths Theatre, Boston. All we know of this film is its title and a one-word description in the unpublished managers' reports of the Keith vaudeville circuit: "Fair." The title of the film is ambiguous because it is not clear how Houdini might have managed to defeat the heavyweight wrestler George Hackenschmidt."

Houdini befriended Hackenschmidt while they were both touring Europe. Hackenschmidt's act consisted of feats of strength and displays of his muscular body.  It is quite possible that the victory over Hackenschmidt alluded to in this film's title did not occur in an athletic contest.
According to Silverman:
"Not one to be outdone, Houdini threw Hackenschmidt. Like Sandow and other strongmen, Hackenschmidt had a popular music-hall turn, exhibiting his build in attitudes meant to recall statues. He and Houdini often compared receipts, Hack conceding that the boxoffice record of 210 pounds he set at Sheffield had been overcome only by Houdini, at 300. Houdini discussed with him the possibility of copromoting a top-rank wrestling match, and hoped to bring him to the United States, presumably as his manager to star in vaudeville."
Well in 1908, Houdini made an offer to Frank Gotch through Harry Day the London Agent to appear in the London halls, but Gotch turned down England: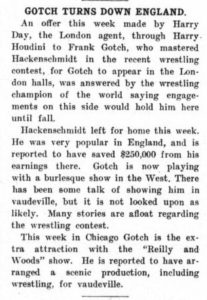 Later in 1908, there were ads that alluded to a likely return wrestling match between Frank A. Gotch, the champion of the world, and Hackenschmidt although Houdini was not the promoter or was he?