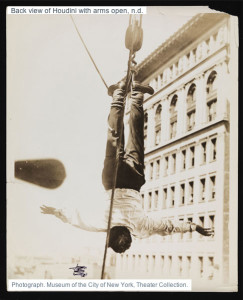 According to Kenneth Silverman (Houdini – The Career of Erich Weiss, 1996), the First Suspended Straitjacket Escape by Houdini was performed 98 years ago today.  Houdini did perform a suspended straitjacket escape 98 years ago today (September 29, 1915) hanging forty-five feet  from the office building of the Minneapolis Evening Tribune; it was just not the first place he performed it. I believe the first place was in Kansas City (September 8, 1915).
Three weeks ago, on September 8th, I did a blog about the First Suspended Straitjacket Escape by Houdini.  In that blog, I presented proof that Harry Houdini was in Kansas City in September 1915 and could have performed the suspended straitjacket escape then.  The evidence included the following:
Ad for Harry Houdini performing his Water Torture Act at the Orpheum Theater in Kansas City on September  11, 1915
Reprint of a Suspended Straitjacket Article from Kansas City Post Newspaper (undated) that appeared in Will Goldston's October 1915 Magazine of Magic
The only thing left unfinished from my blog three weeks ago was to locate a copy of the Kansas City Post Newspaper that has the Suspended Straitjacket Article and verify the date.   Little did I know how difficult a task this would turn out to be!  After much searching of online newspaper archives, and numerous queries to different libraries, the infamous article was finally located by the Kansas City Public Library on microfilm which I will post here as evidence once I receive it in the mail.