As promised from my post last week, here is a photo of Houdini sweeping a Hollywood starlet off her feet.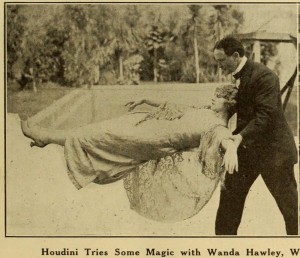 At the time this levitation photo was created, Wanda Hawley, was working on the production of "Told in the HIlls" at the Famous Players-Lasky studio in Hollywood, while Houdini was working on "The Grim Game" in Stage 4.
Wanda Hawley (a.k.a. Wanda Petit), (July 30, 1895 – March 18, 1963) was a veteran of the silent screen films era. She entered the theatrical profession with an amateur group in Seattle, and later toured the U.S. and Canada as a singer. She co-starred with Rudolph Valentino in the 1922's The Young Rajah, and rose to stardom in a number of Cecil B. DeMille and director Sam Wood's films.
Hawley was born in Scranton, Pennsylvania, but together with her family moved to Seattle, Washington, when she was a child. She received her education in Seattle.
Hawley made her screen debut with the Fox Film Corporation and after playing with them for eight months joined Famous Players-Lasky and appeared as leading lady for Douglas Fairbanks, in Mr. Fix-It (1918)
She had also appeared opposite William S. Hart, Charlie Ray, Bryant Washburn, Wally Reid and others. She was five feet three inches high, weighed a hundred and ten pounds, and had blond hair and greyish blue eyes. She was an able sportswoman.
With the advent of sound, Hawley's career ended, and she reportedly was working as a call girl in San Francisco by the early 1930s. She is interred in the Abbey of Psalms in the Hollywood Forever Cemetery in Hollywood, CA.
Sources:
The Moving Picture World
Wikipedia.org