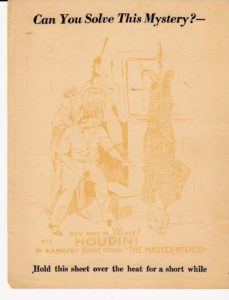 According to the Exhibitors Herald and Motography May 3, 1919:
An advertising novelty that has caught the fancy of the theatre-goer and has therefore been the means of gaining no little amount of attention in behalf of the production it exploits is the invisible ink herald manufactured as an accessory to advertise the appearance of Houdini, the handcuff king, in "The Master Mystery," the super-serial produced by  B.A. Rolfe for Octagon Films, Inc.

A sheet of paper but four or five inches in size, this novelty herald contains no visible ink advertising copy beyond the question, "Can you solve the mystery?" printed at the top of the sheet, and a footnote printed at the bottom instructing the processor to hold the sheet over the heat for a short while.  When these instructions are carried out the heat brings to the surface a scene from "The Master Mystery", picturing Houdini caught in the coils of the villians of the story, together with the following reading matter: "How does he escape? See Houdini in B. A. Rolfe's super-serial, 'The Master Mystery.'"
On August 12, 2016 Chuck Romano did an excellent blog, Houdini – Movie Marketing – Part 2, where he noted:
Motion Pictures News also mentioned this clever novelty
Collectors can only dream if one of these rare pieces of Houdini ephemera still exists
At the time, I commented that A Master Mystery Hold-to-Light Mystery sheet does exist.  One (Lot 131) sold at Potter & Potter Auction on April 9th 2016 Auction for $325.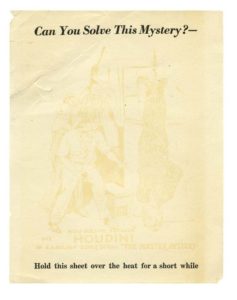 131. Houdini, Harry. The Master Mystery Hold-to-Light Mystery Sheet. New York: B.A. Rolfe, [1919]. Promotional novelty advertisement (4 1/8″ x 5 1/4") for the Houdini serial, revealing an illustration of Houdini held captive by two men, upside-down in chains, and captioned "How Does He Escape?" when held over a heat source. Creases, corner tear upper left.
Well, apparently another one of these rare pieces (seen at top of this post) has surfaced and was part of a lot of Houdini Memorabilia on eBay that sold for $45.  Congratulations to the winner.