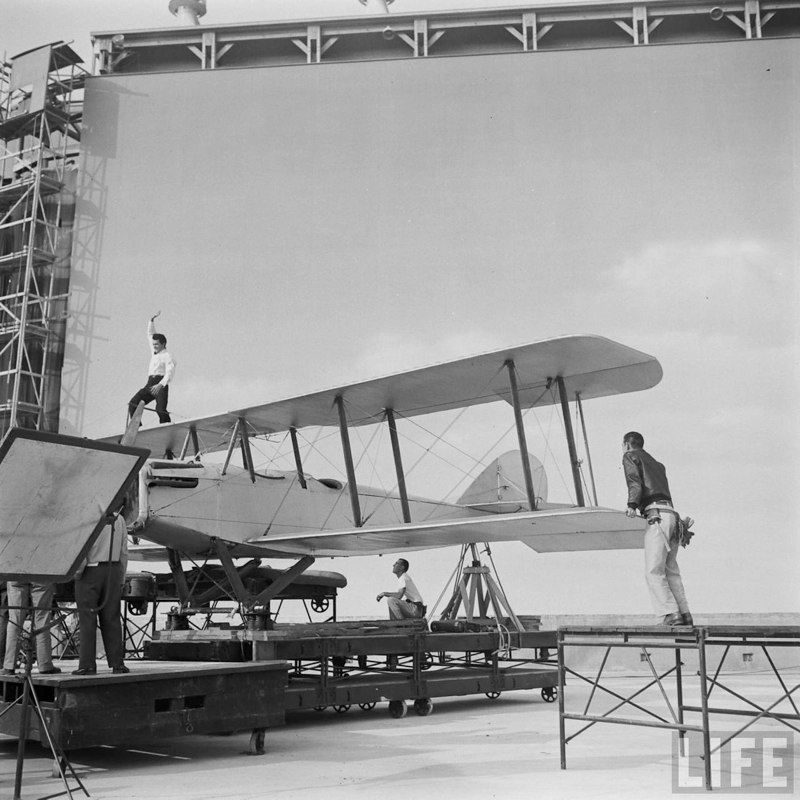 For some time now, I have been intrigued by John's blog at Wild About Harry titled: LIFE photos reveal cut wing walking sequence in 1953 Houdini biopic.  So last year, I decided to go to the Margaret Herrick Library Academy of Motion Picture Arts and Sciences in search of the Lost Plane to Plane Transfer.  I got to look at the press book, stills, newspaper clippings, and a number of different versions of scripts for the 1953 movie starring Tony Curtis and Janet Leigh.
Unfortunately, there were no plane photos/footage, nor any mention of the plane to plane transfer in any of the versions of the script that I read.
However, I did discover the mention of the plane transfer buried in some production 11495 department records:
Apparently, on October 21, 1952, it was listed as Montage number 5 of 6 montages:
Needle Trick
Levitation
Bullet through Woman
Cremation
Plane Transfer (Crank at 16)
Shot of Canon Close up Tony
Note: Montages 4, 5 and 6 did not make the cut, but montages 1, 2, and 3 did appear in the movie.
It was still listed as a Plane Transfer montage on a production call sheet dated: FRIDAY, OCTOBER 31st, 1952, along with the Needle Trick, Levitation, Bullet thru Woman, and Cremation montage. Also, the Milk Can shows up for the first time on this call sheet as a montage, but the canon montage is missing on the call sheet. Note: The Milk Can did not make the cut, either.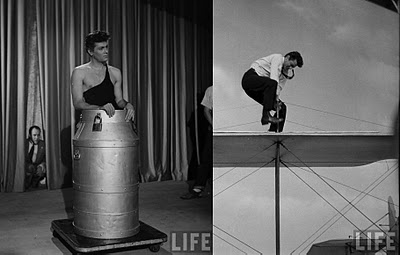 Also, on a RETAKES AND MONTAGES sheet dated 10/31/52 there is a brief description of a plane transfer shot taken on 10/31/52 that read as follows:
MED. LONG SHOT – Houdini on rope swings to wing of plane – MOVES DOWN as he lands – releases rope – climbs down (BLACK & WHITE).
The RETAKES AND MONTAGES sheet also included a brief description of montage shots for the Canon, Cremation, Milk Can and others (e.g., Bullet thru Woman, needle trick, levitation, card tricks).
In reading the scripts and shooting schedule for the movie, discovered some other illusions/routines that did not make the final cut: IRON MAIDEN ILLUSION, ELEPHANT ROUTINE, PAPER BAG ESCAPE, WINDMILL ESCAPE, CARETTE ESCAPE, FOOTBALL ESCAPE, and BURIED ALIVE ESCAPE.
Although there were no photos of the plane transfer, there were some LIFE photos of Janet Leigh and Tony Curtis performing the Cremation Illusion and the Bullet thru Woman Illusion. Also, there were a couple LIFE photos of Janet Leigh escaping from a
see-thru lace straight jacket which unfortunately didn't make it in the movie. And, there were two official Paramount Picture Corporation stills, 11495-43 and 11495-78 that showed the cremation illusion and the milk can escape respectively.
In future related blogs, I plan to describe some correspondence WRT trying to locate original Houdini material (e.g. handcuffs, Milk Can, Overboard box, Book of Life illusion, and Water Torture Cell) for use in the 1953 movie.  As well as describe in more detail some of the montage escapes and illusion sequences that didn't make the cut.  I also plan to do a blog on what Harry Houdini and Tony Curtis have in common?