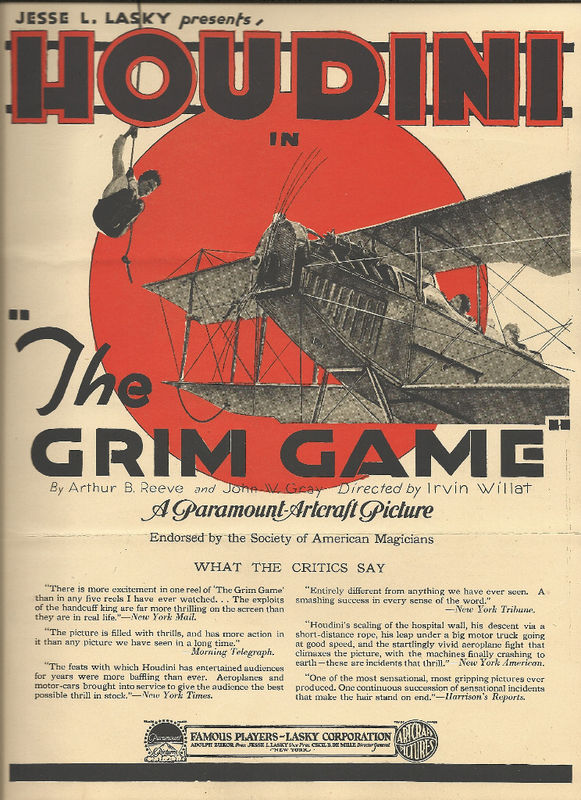 Last month when The Grim Game made its Television debut on TCM, I mentioned that it originally made its debut at the B.S. Moss Broadway Theatre in New York City on August 25th, 1919.  Well prior to its original debut, Houdini gave a private showing in NYC, which I promised to comment on.
The following passage is excerpted verbatim, even to the punctuation from a private letter WRT to a private showing of The Grim Game on August 18th, 1919:
Monday night 8 o'clock shapr [sic] there will be a private show of my latest picture The Grim Game which will be shown only to a few chosen magic friends before the regular trade showing and if you have desire to see same would like to have pleasure of having you attend.  Takes place at the production room of Lasky Famous Players offices, 400 [485] Fifth Ave near 42nd St. Monday August 17th [Note: Monday was really August 18th] Tried to get you twice on phone and no answer. Regards sincerely yours Houdini. [The Houdini Code Mystery by William V. Rauscher, page 106]
Note:  Koval places the private showing at 485 Fifth Avenue, which was the address of the corporate main office right across from the New York Public Library.
Aug 18 – A private showing of "The Grim Game" is given to Houdini's chosen friends at the Lasky Famous Players Offices at 485 Fifth Avenue, New York City.
The Society of American Magicians officially endorsed The Grim Game at this private showing:
The endorsement was given at a private showing of the picture for the members of the society in New York, which was attended by Messrs. Houdini, Howard Thurston, Francis E. Werner, G.G. Laurenz, Hardeen, William J. Hilliar and about forty others.

…

After the showing,  Mr. Howard Thurston said: "I have always thought Houdini was a great showman, but I expected nothing like this.  It leaves nothing undone.  Houdini may now retire, confident that he has done his greatest work.  It is one of the most wonderful things I have ever seen".  At the conclusion of Mr. Thurston's speech, Oscar S. Teale, Secretary of the S.A.M. said:

"Gentlemen, I move that the Society of American Magicians pronounce the picture a glowing success, worthy of highest commendation, and that it go forth as officially endorsed by this society."

[The Sphinx, September 1919]
Bonus:
According to a 17 September 1919 New York Clipper article, the Famous Players also had New York City offices at 428 Fifth avenue, 729 Seventh avenue and at 469 Fifth avenue, but at the termination of the leases, the company will use the entire front of the Putman Building [at Forty-Third street and Broadway] for its offices: