Houdini is generally acknowledged as the first man to fly a plane in Australia. He made the historic flight just north of Melbourne in 1910. Two variants of a Stanhope miniature brass telescope were manufactured to commemorate the historic event and are quite rare.
Houdini collector, Joseph Gargano is now offering a viewer which is a reproduction of the Stanhope made to commemorate Houdini's first flight over Australia. It comes in a beautiful wood box engraved with Houdini's signature on the lid. This piece alone has sold for $195 and is now available for $105 which will just allow Joseph to recoup the cost of production, and get some money to The Houdini Museum in Scranton for the continued maintenance of Houdini's grave.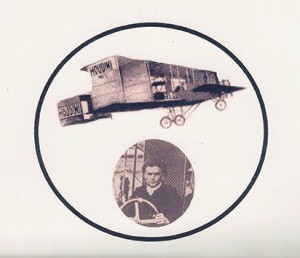 Looking through this novelty lens reveals an image of Houdini making his historic flight at Digger's Rest in Australia. Here, he is pictured both in mid-flight in his biplane, and a separate posed close-up shows Houdini behind the controls of the plane.
For questions, purchases and shipping rates, contact Joseph Gargano at conjuringhh@optonline.net.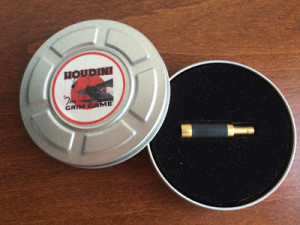 Joseph also offers a quality brass mini viewer with embedded lens showing an image from The Grim Game reproduced from an original glass plate negative in the Joseph Gargano collection. It comes in a small film can with Grim Game advertising image on the lid.  While supplies last, this viewer is offered as part of a larger Commemorative Set that is released in two very limited editions (Standard and Deluxe).  See John Cox site for details of The Grim Game Commemorative Set.