For me, the festivities in Hollywood started off on Thursday, March 26th when I picked up a TCM Film Festival program that included a 5 page article on the Man, the Myth, the Legend and included 6 images (5 below and 1 above) from The Grim Game.
On Friday, March 27th was the infamous Houdini "Nuts" lunch at the Magic Castle in the Houdini Séance room that was attended by the following:  Joyce Basch, Dick Brookz, Lisa Cousins, John Cox, Patrick Culliton, Dorothy Dietrich, Joe Fox, Joe Monte, Arthur Moses, Charlie Mount, Jose Luis Nazar, Joe Notaro, Angela Sanchez, Gene Franklin Smith and Mark Willoughby.
At the lunch, I shared what I believe is a complete set of all of the production stills from The Grim Game.
Gene Franklin Smith brought printed copies of his masterfully produced Houdini play, Flim Flam: Houdini and the Hereafter for all of the Houdini "Nuts" to sign and keep.
Dorothy and Dick handed out some keepsake cards.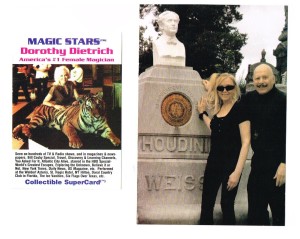 And last but not least, Arthur Moses handed out a Houdini "Nuts" Grim Game Souvenir Folder that was off the charts:
On Saturday, March 28th, many of the Houdini "Nuts" attended a Houdini Séance at the Magic Castle.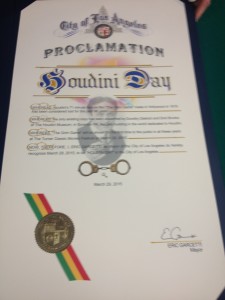 Sunday, March 29th, was Houdini Day in Los Angeles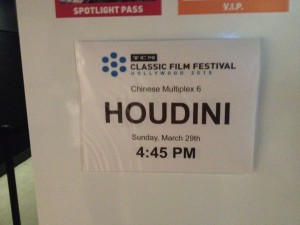 Dorothy Dietrich and Dick Brookz got me a reserved seat for the Tony Curtis, Houdini movie, where I got to see them share the official "Houdini Day" proclamation from the City of Los Angeles and perform one of the best straitjacket and handcuff escape routines I have seen, Bravo!  This was followed by seeing a rare 35mm print of the movie.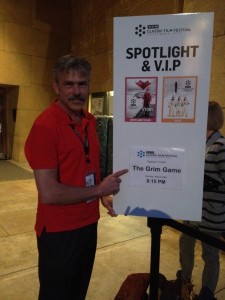 Next on the agenda was the grand finale, the premier of "The Grim Game", at the Egyptian Theatre.
While, I waited with anticipation outside the theatre with my fellow Houdini Nuts (Lisa Cousins, John Cox, Patrick Culliton, Joe Fox, Arthur Moses, Gene Franklin Smith, and Mark Willoughby) , I got to meet John Gaughan, Fred Pittella and Bullet Valmont, for the first time which was an honor.
Was I really just about to see Houdini's Best Movie?  The answer is yes, Dorothy and Dick got me a reserved seat as one of their special guests.  In fact, they took their seats right in front of me after they performed a quick magic routine using a vest once owned by Houdini, and Dorothy shared her heart-felt feelings about this special moment of a lifetime.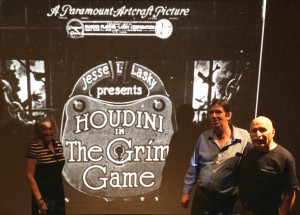 So, I got to see the movie, with a different perspective than most.  That is, I spent years studying everything I could get my hands on about The Grim Game, which included the script, two lists of subtitles & spoken titles, production stills, press book, newspaper ads, magazine articles, books, programs, and whatever I could find in libraries and online archives.
So although, I hadn't seen the actual movie before, I felt like I knew it inside and out.  That said, seeing it brought to life on a large screen accompanied by a live orchestra was an experience that I will never forget.   I literally saw my 40 year obsession with Houdini and his best work pass before my eyes.
There was some nitrate damage to the film, but it was not too bad.  And I did notice some small white plus-shaped images or specs that appeared in parts of the movie, but I am told that this was normal for silent films and was not a defect.  As far as I was concerned all of these things added to experience and authenticity of the movie.  Overall, an excellent job was done preserving and restoring this film so it could be enjoyed by all.
For the most part, the movie appeared to follow the Script and the 422 scenes that I read at the Margaret Herrick Library.  The exceptions that I noticed were as follows: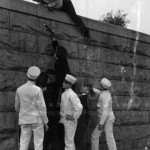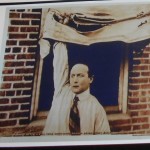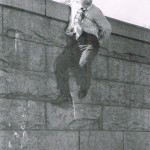 The Press Club Grill in the script got changed to the Paloma in the movie.
In the script, Scenes 311-314, Houdini frees himself from a straitjacket, swings like a pendulum at the end of the rope, catapults his body through a small window; and then scales a wall and disappears over the other side. However in the movie, Houdini released himself, fell into an awning and then dropped to the ground without scaling a wall. Any way you look at it, the straitjacket scene was breath-taking.
Scene 325 takes place on a mountain road where we see Mary (Ann Forrest) riding in on a motorcycle.  After riding a long distance, the road is too rough for Mary to go any farther.  She stops and gets off of the motorcycle and proceeds quickly up a path. Ann Forrest does not appear on a motorcycle in the movie.
Seeing the movie, I was finally able to find out which set of sub-titles and spoken titles were actually used; that is, the movie followed the stand-alone set that contained 111 titles as opposed to the 94 titles embedded with the 422 scenes.  My guess is that after the scenes were shot, they updated and added titles to create the final product. When you watch the movie, you will notice that some title cards have a border around them and some don't. The ones without a border are spoken titles and the ones with a border are sub-titles.
For me, the highlight of the movie was the jail sequence, which unfolded in total silence without music which I thought was brilliant but not everyone agreed.   I was amazed to see the 3 story shots of the jail house and then the focus on the cell on the third floor of the facility occupied by Houdini.  All attention was on the Master, as it should be.  He did not disappoint.  He escaped the fetters, pried the bars on the window open, and worked his way down the side of the building, where he did his most daring feat of the film and dove under a moving vehicle and latched on to its underside as it sped away.  Brilliant!
I would now like to share a few comments/observations about the actors in the movie.
All of the suspects played their parts to a tee.
Tully Marshall ("Nick" Raver, Cameron's Lawyer, who seems to prosper without other clients)
Augustus Phillips (Hanford's employer, David Allison owner of the Daily Call)
Arthur Hoyt (Dr. Tyson a famous alienist and Cameron's physician),
As far as the ladies in the movie, they all played their given roles well.  Although, Ann Forrest has always been considered the leading lady in the movie, I would also add Mae Bush to that category as well; she had a number of scenes and really shined.  Jane Wolf (not pictured below) and Houdini's land lady Mrs. Gates added some good comedy relief. In fact, Mrs. Gates deserved to receive a credit in the movie, but did not.
Ann Forrest (Mary Wentworth, Cameron's ward and heiress)
Mae Bush (Ethel Delmead, favorite of the Paloma Cabaret who plays Cameron's nurse)
Jane Wolf (Hannah, the maid plays many parts, as the gloomy mansion houses but two servants)
Unknown actor (Mrs. Gates played Houdini's land lady)
Speaking of credits, I am not sure why The Police Reporter (pictured in Straw Hat below) got a credit and Old Banks (not pictured below) did not.  The police reporter's role was very minor and probably went unnoticed by everyone in the theater. While I guarantee everyone remembers Old Banks who provided a lot of comic relief and set the stage for the movie with the following comment:
"If anything happened around here, we'd have circumstantial evidence on you – prowling about these grounds with a gun!"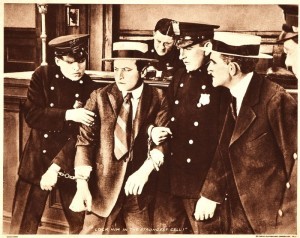 Ed Martin (Police Reporter)
Unknown actor (Old Banks, the man-of-all-work and one of Cameron's two servants)
And last but not least, Houdini deserves a Standing Ovation for his acting performance in this movie.  Yes, I said acting.  He nailed it.  You could also feel the chemistry between Houdini and Ann Forrest, which included a couple scenes where he kissed her.
Houdini (Harvey Hanford, Cameron's nephew and David Allison's trusted adviser and assistant)
Overall, The Grim Game surpassed my expectations.  It was absolutely brilliant and breath-taking.
After the movie, I joined a small group at the Magic Castle in a private room to discuss what we had just witnessed, which was history being made.
This was an experience of a lifetime that I will never forget.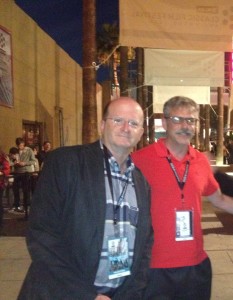 Special Thanks to Arthur Moses for the Grim Game gift bag and Dick Brookz and Dorothy Dietrich for making my dreams come true.