Dorothy Dietrich and Dick Brookz (D&D) made my trip to Scranton extra special.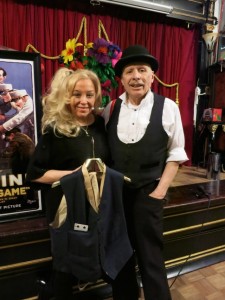 Seeing the Grim Game was a lifelong obsession of mine and thanks to my friends D&D, I was able to see it for the first time at its premier in Hollywood. I didn't think I would be able to top that experience until I went to Scranton to see it for the second time at the Houdini Museum where it was having the first premier to the general public.
And I have D&D to thank again for another Houdini experience of a lifetime.
I hope you enjoy my report of the trip that started on June 11th.
June 11th
Took the red-eye to Detroit and thankfully after a three an half hour layover, I was able to make my escape.
June 12th
Landed in Wilkes-Barre/Scranton PA and checked in at the Microtel by Windham which I highly recommend. FYI, there is a Microtel in Scranton and Wilkes-Barre which became a running joke the whole trip, since I was staying at the one in Wilkes-Barre which was thirty minutes from the Houdini Museum as opposed to the one in Scranton which was only a few minutes away from the museum. I thought Wilkes-Barre/Scranton were one in the same.
My hosts D&D eventually show up at the right hotel (or wrong hotel depending how you look at it) and we drive down the road to the Mohegun Sun Casino for an incredible Dinner Buffet.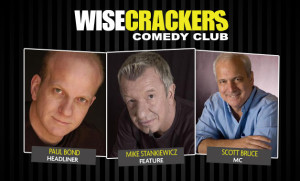 After dinner, we were special guests at the Wise Crackers Comedy Club where D&D knew the owners, MC and feature performer.  At the club D&D introduced me as their Houdini friend Joe from Hollywood, which became "Hollywood Joe"  to everyone at the club.  I really enjoyed myself. The one thing you are guaranteed at Wise Crackers Comedy Club is is a good time and a lot of laughs.
June 13th
This was a special day for a number of reasons:
Visit with relatives
During the day, I went to McAdoo, PA and visited with some of my long lost relatives (Aunt Marie, Cousin Doreen, Cousin Patty, Cousin David and  his wife Joyce ) including my Aunt Arlene and Uncle Jack who came in from Connecticut.  They put on an Italian spread in my honor that included meatballs, sausage&peppers, scalloped potatoes, stuffed chicken, salad, strawberries, and homemade peanut butter pie and cheesecake. I really enjoyed the company and the food.
We then walked to the nearby cemetery to see where Nanny, Grand Pop  and my Aunt Sally are buried. We also visited with my Uncle Pete at the cemetery, who looked and sounded great. It's not what your thinking, Uncle Pete came late to the house and drove to the cemetery to say a quick hello before he had to go.
We walked back to the house, visited for a little while longer before I had to leave for the Grim Game festivities that evening in Scranton.
Grim Game Festivities
6 to 7 pm Started with the VIP Dinner with the Houdini Family at the Stirna's Restaurant established in 1908.
The excellent dinner was enjoyed by all and included Houdini's favorites – Hungarian chicken, spatzels, and custard bread pudding with bing cherries.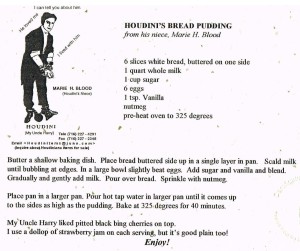 7 to 8 pm  At the Houdini Museum, Jeffrey Blood displayed and discussed the Houdini collection he brought which included Houdini household effects like soup spoons, a salt and pepper shaker, a toy car, an embroidery signed by Bess, lock picks, keys, a pair of cuffs not connected, movie stills, photos, letters, and a very unique Houdini Wand that David Copperfield wanted for his collection.  He also had some First Day Cover Sets on display with a special announcement card with an impossible cut and some Houdini family replicas for sale.  And courtesy of the Bloods, everyone in attendance got a free Houdini Pen.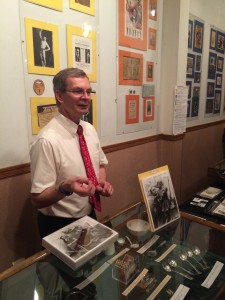 8 pm It was time to take our seats. There was a front  row seat reserved for me next to the Blood family (Jeff and Debbie Blood).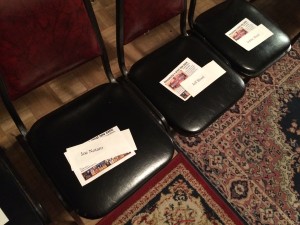 D&D made a number of announcements and introductions.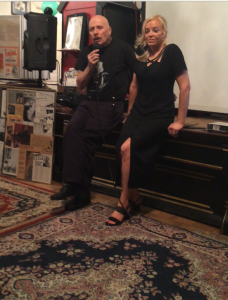 D&D talked about the only known copy of The Grim Game existing with a collector in Brooklyn, New York. D&D met that collector at one day magic events in NYC and were allowed to see The Grim Game twice in their lifetime. For years, D&D tried to get the owner to share the film with no success. That is, until last year, when that collector turned 95 and he finally changed his mind.  And that collector was Larry Weeks.
"[Houdini] said of this film 'The Grim Game:' 'The present generation can see me in person but I want my most thrilling feats on the screen so people in later years can assure themselves that I actually did them.'"
Dorothy introduced yours truly, Joe Notaro, as a Houdini Historian and expert on the Grim Game, as well as having one of the best blogs on Houdini, HarryHoudiniCirumstantialEvidence.com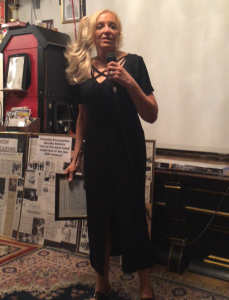 She asked me to say a few things about the film. I described my thoughts on Houdini's "best movie" that I had studied for years without seeing (until 2015) and explained why the audience was in for a very special treat.
D&D then told the incredible story about how the Houdini Bust at his grave in Queens returned permanently in September 27, 2011 after going headless since 1993.  Check out the New York Times article, "Houdini Returns (Of Course)", where Mr. Brookz and Ms. Dietrich tell the story.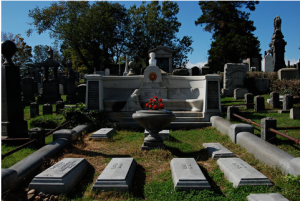 The guy (Clay Lepard) from WNEP walked in and Dorothy introduced him.
She then introduced Bernie who did Philadelphia, Wilkes-Barre and Scranton opoly; and is working with D&D on HOUDINI OPOLY.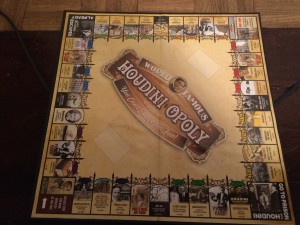 This was the first public announcement of HOUDINI OPOLY.  In researching Houdini's life, D&D have put together a game called HOUDINI OPOLY. The beautiful prototype you see above was shown. It is amazing because it is very accurate as to the history of Houdini.  You go around the board that has historic Houdini dates and places. You can buy things like the building he was born in, the ship line he came to America in, the building in Manhattan where he worked in a sweat shop, the building he worked in on Coney Island, a plot in the cemetery, and you can even visit or go to the jail from the Grim Game. Click here for details on how to order.
Dick then mentioned that The Grim Game has its own music.  He displayed the front sheet of the new original score signed by the composer, Brane Zivkovic.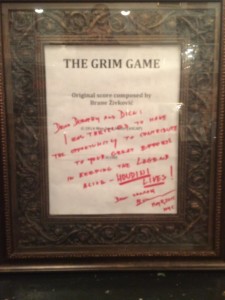 D&D introduced Jeff Blood who shared the following story as told to him by his mom, Marie Blood.
The Fire Marshall came by his Grandparents house just to make sure everything was up to code.  In the basement, there was a bunch of canisters that the Fire Marshall asked what they were.  His Grandfather very proudly stood up and said those are all of Houdini's films and I am preserving them.  The Fire Marshall then said thanks for telling me that, I am discounting your Insurance and you are no longer covered because these films are very combustible and it is no longer safe; and until they are gone you no longer have insurance.  His grand-parents were devastated and that night, they got put outside where they watched the trash man put them in the trash and take them all.
D&D introduced Tim from the Restaurant Stirna's who provided the great Houdini dinner.
D&D shared the proclamation from the Mayor's office showing June 13th was Houdini Day in Scranton.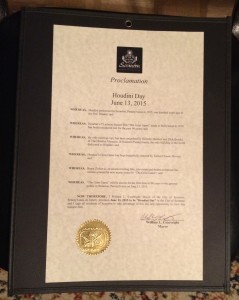 And also thanks to D&D efforts, it was Houdini Day (March 29th) in Los Angeles for the premier of The Grim Game at the TCM film festival in Hollywood.
On that note, it was time to see the premier of The Grim Game at the Houdini Museum in Scranton.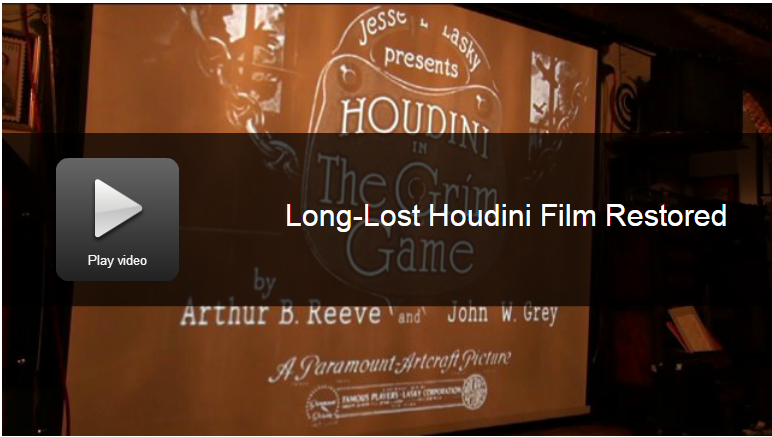 Based on the applause that seemed to never stop, I would say the audience loved it and The Grim Game was a huge success in Scranton.
Q&A
D&D led the Post Movie Discussion:
Dorothy talked about the director Irvin Willat and meeting his sons and discussing the plane crash and what caused it. Dick talked about Robert E. Kennedy (Houdini's stuntman for the plane transfer) and also mentioned that all the villains in Willat's movies smoke.
During the Post Movie Discussion, I was asked to tell the story of Ormer Locklear's (Locke) connection to Houdini and The Grim Game. This also led to me telling this story:
Some years after the movie was released, Houdini used the final sequence (AKA "Desperate Chances") in a vaudeville act. One night Tommy (aka David Thompson) took his wife to see the act and found that after running the clip in which the stunt man faltered and the planes locked, Houdini referred to this as his narrowest escape. He then invited members of the audience on stage. Wondering what Houdini's reaction to him would be, Tommy joined the group. The great escapist recognized him at once and, without the flicker of a lash, identified him to the audience as "the hero who saved my life in The Grim Game." [Hollywood When Silents Were Golden]
After Q&A, folks were encouraged to check out Jeff Blood's collection and Houdini Family Replicas he had for sale: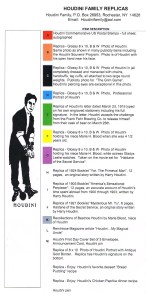 While people were mingling, I had the privilege to meet, Joe Patire and his wife Lisa who were in attendance. They are both well known in the magic circles. Hatari (Joe Patire) recently made history by escaping from a milk can at the 2015 Midwest Magic History weekend.
After the crowds cleared out, I had the opportunity to take a closer look at the Blood's collection and talk with them some more before they had to pack it up. They were so nice.
June 14th
Houdini Museum welcomes Joe Notaro,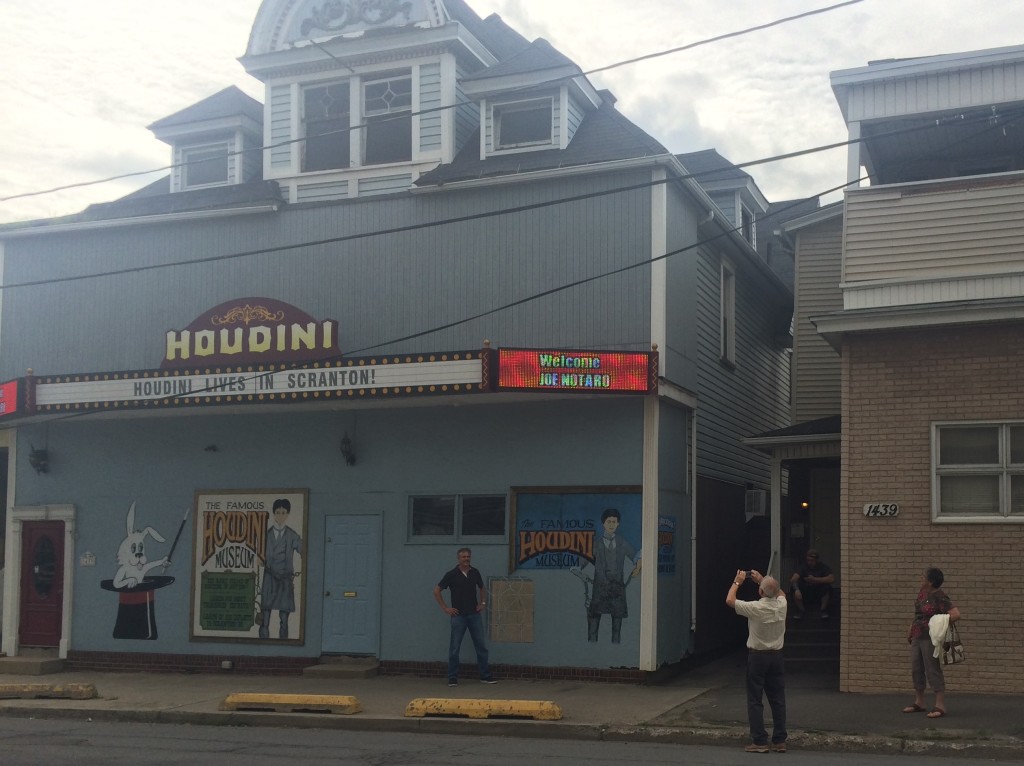 the Grim Game and his relatives seen below.
It was 1 pm and time for the Houdini Tour & Magic Show at the famous Houdini Museum to start.
In the main show room, we learned about Houdini's exploits in Scranton and saw rare films of Houdini in action. We then proceeded into another room in the Museum, where Dick Brookz shared the history of Houdini using visual aids in the museum.
We then proceeded into another room in the Museum, where Dorothy Dietrich was waiting to show and share some amazing artifacts and stories about Houdini.  I loved the story of the Mirror Handcuff Challenge that got everyone participating, especially the kids.
We then proceeded into the showroom for a magic show by nationally known magicians Dorothy Dietrich & Bravo the Great (aka Dick Brookz).
Bravo the Great opened the show and had everyone laughing.
He then introduced the world famous, Dorothy Dietrich, who performed her award winning routine.
The magic act incorporated live animals including doves, a duck, a rabbit and two poodles.
There was lots of audience participation throughout the show.
They even pulled someone out of the audience for an amazing levitation.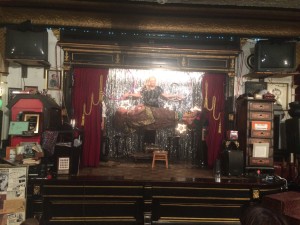 John Bravo did souvenir demonstrations that the kids loved and then D&D shared HOUDINI OPOLY with everyone.
Three and half hours later, the incredible Houdini Tour & Magic Show concluded. I highly recommend it.  My relatives absolutely loved the experience.
After everyone left the Houdini Museum, D&D took me for a wonderful Chinese Buffet dinner.
After dinner, we went back to the museum and hung out for hours. I will cherish the stories and different things D&D shared with me. I was living a dream and didn't want the day to end. But, we had plans for going to New York City the next day. I will share our special trip to New York in another post in the future.
Dorothy Dietrich and Dick Brookz (D&D) are my heroes.