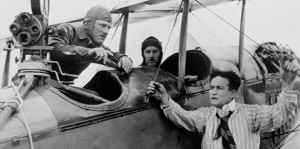 John Cox at Wild About Houdini just did a short post titled, L.A. Daily Mirror pinpoints Houdini's plane crash,that shares a well-researched article by Mary Mallory about Houdini's The Grim Game.
John also shares the following information from the TCM film festival which was news to me as well when I heard it:
At last Sunday's premiere of The Grim Game restoration, the sons of director Irvin Willat told me their father said the camera plane, which he was in, was also struck and "went down" with the others. This is the first I'd ever heard of the crash involving three planes.
This needs some more research.  Hopefully the sons of director Irvin Willat can elaborate some more.
Other Related Posts: