Above is an ad, that I came across from The Morning Tulsa Daily World, dated Oct 14, 1919 that mentions on page 642 November issue of Popular Mechanics you will find a description (illustrated) of the hair-raising aeroplane accident recorded in "The Grim Game".  So of course, I had to find a copy of this November 1919 issue.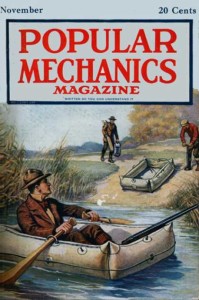 And below is page 642 of the November 1919 issue.
The "camera man" was none other than the director, Irvin Willat.  And you got to love the "acrobat" references, which of course was Robert E. Kennedy (stuntman for Harry Houdini).  However, the photo of the guy standing by the upside down aeroplane is misidentified as the "acrobat".  It is actually David E. Thompson, who flew the pickup plane.