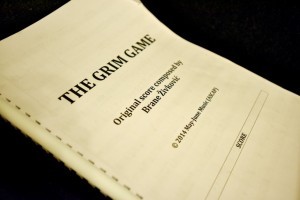 Brane Zivkovic conducted a live performance of his new original score for Harry Houdini's silent film, The Grim Game, at the TCM Classic Film Festival (Egyptian Theater in Hollywood) on Sunday March 29, 2015.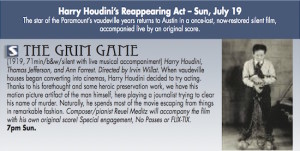 Now on Sunday, July 19, 2015, Composer/Pianist Reuel Meditz will accompany the film with his own original score at the historic "Stateside at the Paramount Theater" in Austin, Texas.
I wonder why they decided to change the music for this screening.
It will be interesting to hear thoughts and impressions on Reuel Meditz's score compared to the Brane Zivkovic's score.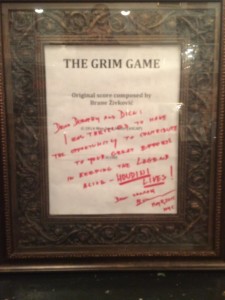 John Cox at Wild About Houdini who wrote an incredible review of the screening in Hollywood had this to say about Brane's Zivlovic's score:
The new score by Brane Živkovic might be the most controversial aspect of the restoration. Make no mistake, his music is beautiful, and it works incredibly well in places. But this is Živkovic's first score for a movie, a specialized skill, and he makes a few unconventional choices for a silent film, such as occasionally using no music at all. The decision to not score the jail cell shackle escape was a point of discussion after the screening. I personally liked the choice to let the escape play in total silence. I thought it created tension, almost like a silent drum roll. But others felt thrown. Also, by the end of the film, his four compositions were starting to feel repetitive. But I was happy and relieved that he created a whole new piece for the final plane chase and crash. Still, I'm hoping TCM allows a little more work on the score — perhaps having Živkovic compose a few new pieces and bringing in a music editor — before the movie hits the TCM channel.
BTW: TCM will air The Grim Game on Sunday October 18 at 8:00  PM (ET) and again at 11:45 PM (ET).  It will be interesting to see if they do a little more work on the score.
I would also love to hear the entire original score from 1919, as opposed to just the plane chase and crash which you can check out at this link on YouTube.
For a modern soundtrack and video of the plane crash, check out this link on YouTube.
UPDATE:  Below is the Musical Synopsis from the 1919 Press Book for "The Grim Game"