There is still a score to settle.
On October 18th, Turner Classic Movies (TCM) airs a different score for its 2nd showing of Houdini's "The Grim Game" than the one Rick Schmidlin first added to his restoration of Houdini's finest movie.
That is, the first showing will be the ensemble music as was shown in Hollywood and the second showing will be Steve Sterner playing original piano music written by him at the request of TCM. It will have 4 themes (which include a Main theme, Love theme, Villain theme and Servant theme), along with other minor themes with a lot of ad-libbing and changes of moods and keys to keep it moving.
Since I did the post titled "The Grim Game Has a Score to Settle" there has been a number of piano scores.
According to a post at Houdini.org who has been keeping score:
Critics and experts most common critique of the restoration as supervised by Rick Schmidlin was that the music was repetitive.

…

Since the restoration, the film has had several showings and for whatever reasons they decided to have their own live piano accompaniment instead of the score Rick Schmidlin provided. A few examples follows;
Sun. July 19, Composer/Pianist Reuel Meditz accompanied the film with his original score at the historic Paramount Theater, Austin, TX.
Sept. 16 Northbrook Public Library in Northbrook, IL, It was screened twice with live piano accompaniment by Dave Drazin.
Oct. 11, 2015 Performed with live piano accompaniment by Neil Brand at Barbican Cinema 1 in London.
Dec. 5 Live musical accompaniment by Donald Sosin at Castro Theater at The San Francisco Silent Film Festival.

Most telling is Turner Classic Movies having silent movie pianist Steve Sterner add a new score to the 2nd of the screenings on Oct. 18. They're also using the music for trailers and clips of the film.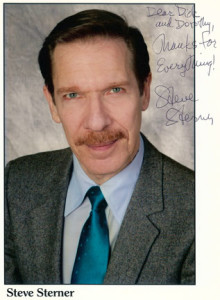 Click the link below to read the full article at Houdini.org which also includes quotes from reviews of the Hollywood score, how the composer and music was selected for the original restoration music, a list of other options for music and composers, and the consultant's frustrations with the producer. Also, included is the lead sheet music for the four main new themes of Steve Sterner's score.
All of this said, I am assuming we have not heard the last word on the score.
Either way, please enjoy the music and TCM airings of Houdini's finest movie!
Images courtesy of Dorothy Dietrich and Dick Brookz