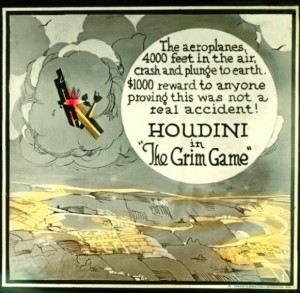 I recently did a post, 3 video Grim Game Clips with new piano music, that had a link to Turner Classic Movies (TCM) Videos for The Grim Game Webpage:
If you click on the same link above, you will find they have made some additions which include a couple of glass slides for the film.
Glass slides were used by many theaters to promote coming attractions during slide shows between coming screenings.
You can also vote for The Grim Game to be released on DVD.