Harry Houdini was known to make personal appearances at his movies.
While visiting Fred Pittella in NYC, he shared evidence of another Escape Artist making a personal appearance at one of his movies.  Fred graciously allowed me to share this evidence below:
In 1922 on Friday, Saturday & Sunday, December 15th, 16th, & 17th,  The Man From Beyond"was playing at the Stadium Theatre located at Third Ave & 119th street, New York.  As an added attraction in conjunction with Harry Houdini's master production "The Man From Beyond", the escape artist Genesta was to make a personal appearance and escape from a barrel of water:
Wizard of wonders in his sensational and death-defying escape from a barrel of water. After being securely handcuffed by a committee selected from our audience and locked in a barrel.  This is positively the most sensational death-defying stunt ever attempted.  Bring your own padlock.  Inspect barrel in front of theatre. This barrel is the exact duplicate of the infamous torture barrel used in Russia by the Bolshevicks which many of the royalty were tortured and put to death.  To see it is to believe it.
Special Thanks to Fred Pittella!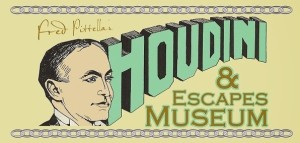 Please check out Fred Pittella's excellent website, Houdini and Escapes Museum to see lots of photos of Fred's magnificent Houdini and restraints collection.
UPDATE:
Nevertheless, to get his picture talked about he made personal appearances with it for about three weeks…

He also created four touring companies, hoping to gain a national audience for The Man From Beyond by presenting it in connection with "The Houdini Wonder Show of 1922." One or two well-known magicians or escape artists headed each unit, notably Frederick Eugene Powell…

Houdini appeared at the opening show of each unit, and made it clear that these were his shows, combined with his movie. [Silverman]