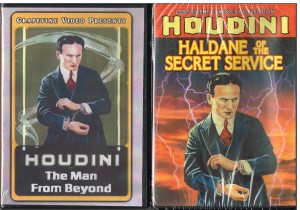 Let's start with the obvious.  The DVD artwork for both pictures is from a poster from "The Grim Game".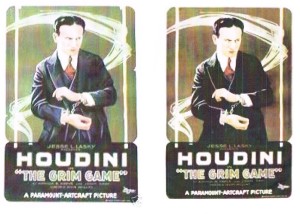 Now, let's briefly discuss the two films that Houdini wrote and produced.
The film ("The Man From Beyond") had its faults, but critics agreed that one scene alone was worth the price of admission.  "It has a whale of a punch," Variety said. "Houdini does a sensational rescue of the heroine in the Niagara Falls rapids, and it has a kick that would carry any audience".
Regrettably there was nothing in "Haldane of the Secret Service" to match the Niagara Falls rescue in "The Man From Beyond" or the fantastic escapes of his earliest films (e.g. "The Grim Game").  He (Houdini) read his reviews with dismay. He compared his cost sheets with his income statements. Sadly, he removed his pending productions from the active file and brought his career as a picture producer to an abrupt finish. [Houdini, The Untold Story by Milbourne Christopher]