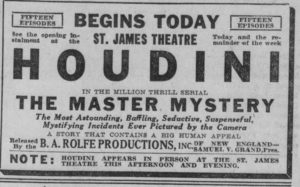 The Master Mystery was released on the open market plan in November of 1918 and made its premier 98 years ago today [November 18th, 1918] in the Saint James Theatre in Boston.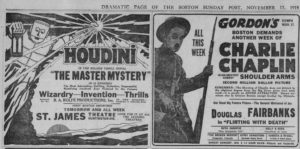 On November 17th, the Boston Post reported that:
"Houdini," the famous handcuff king, will appear in person on the stage of the St. James Theatre tomorrow afternoon and evening for the purpose of introducing his new serial, "The Master Mystery," which will be shown for the first time.  Mr. Houdini will be accompanied by his leading lady, Marguerite Marsh.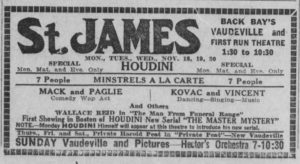 On, November 18th, the Boston Post reported that:
Harry Houdini is a visitor to town. The famous handcuff king, who for a number of years appeared as headliner on the vaudeville stage, arrived in Boston late last night. He was accompanied by his manager.  Houdini who has escaped from many of the most noted prisons of the world and has baffled the cleverest police officials in this and other countries, made the visit for the purpose of seeing the opening installment of "The Master Mystery," at the St. James Theatre.
According to a Motion Picture News ad, all house records were broken at the St. James Theatre: