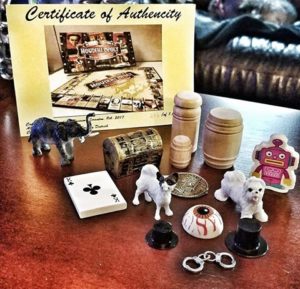 Supporters started receiving pawns and certificate last month and the creators Dorothy Dietrich and Dick Brookz (D&D) just informed me that the games are getting ready to be shipped from the manufacturer to them, so we are getting close to seeing this amazing project come to fruition, can't wait.
Below are related links of interest that D&D shared with me:
NEWEST FIRST.
1)  Houdini Opoly used in college case study on how to run a successful Kickstarter!!!
We are mentioned at least 14 times in this 50 page thesis.  Do a keyword search for Houdini
Aalto University, School of BusinessThe main objective of this study was to discover and identify the key determinants contributing to a gaming crowdfunding campaign's success.
3) Finished Houdini Opoly Parts at the factory
4) The proofs are back from the manufacturers.
We will be sent parts of the game out in December-(Pawns).