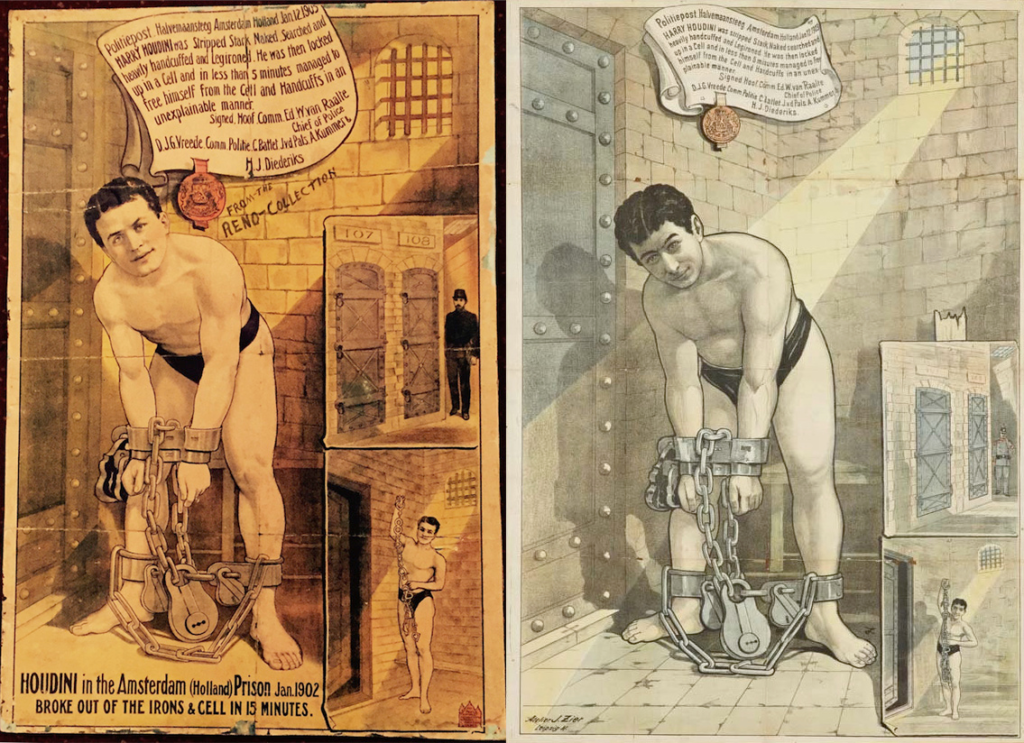 I am amazed that other than the two posters above, that there is very little information about this jail escape.
According to Brainy History, Harry Houdini performed at Rembrandt theater Amsterdam on January 12, 1903 and escaped the police station Halvemaansteeg in Amsterdam on January 21, 1903.
Based on the Sphinx Vol 1 No 11 Jan 1903, we know Houdini was at the Rembrandt Theatre, Amsterdam, Holland Jan 1-31.
According to the two posters it was Jan 12, 1903, he escaped police station Halvemaansteeg. Note: One of the posters that lists Jan 12, 1903 at the top, also lists Jan 1902 at the bottom.
Frank Koval Research Diary for 1903 lists Jan 12 based on the poster (depicted on p19). Frank also references a photograph (most likely the basis for the posters) on p21 from the Sidney Radner Collection, which Houdini had written that it was probably taken in 1904. Koval states that Houdini was mistaken and that it was taken in 1903.
However, that photograph appears in The Adventurous Life of a Versatile Artist, with the caption: Houdini as Handcuffed and Manacled by the Dresden (Germany) Police, September 1900. Frank Koval's Research Diary for 1900 has Houdini in Dresden the month of September and on Sep 20 escaping from cuffs and leg irons before Von Windheim, Germany's highest police official.
That photograph also appears on German postcards from 1900 and 1902, that sold on eBay. So based on photographic evidence, it appears the image used for the poster(s) was based off an earlier escape in Dresden Germany not Amsterdam Holland.
According to Mahatma February 1903: Harry Houdini has returned from England and is now in Amsterdam, Holland. He broke out of two police cells in one day [no date given] – in a nude condition at that.
And last but not least, Silverman's only mention is the following sentence on page 93: …escaping nude from an Amsterdam jail cell and conquering unusual bolted cuffs, horseshoe-shaped, that fettered his cross hands. [Source: Nieuwe Winschoter Courant, 23? Jan 1903.] FWIW: Houdini's hands are not crossed on the Amsterdam poster.
That's all I got, if you have additional information, please share.
UPDATE:
In the Amsterdam poster, the other nude photo of Houdini in the lower right hand corner is from the 1899 earliest Houdini Nudes that he had in an ad in Mahatma Magazine when he signed with Martin Beck.  The "nudes" were taken by Bushnell company in San Francisco in 1899.
John Cox also covered this picture…
http://www.wildabouthoudini.com/2013/10/ebay-auction-dates-first-houdini-nude.html
That said, I believe the main image was taken in Dresden.
Special Thanks to Dorothy Dietrich, Dick Brookz and John Cox for sharing info on the other photo in the lower right hand corner.