This is positively a photographic reproduction of a genuine frame cut-out from the film, The Man From Beyond.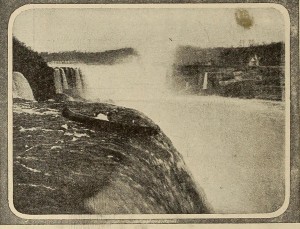 [Exhibitor's Trade Review Volume 11 Number 17]
These are stunt dummies going over the falls, possibly shot as part of an alternative ending in case of disaster.
In the actual ending of the movie, the shots of the canoe going over the falls are dummy-free.
The Man From Beyond is a great heart-throb, mystery, love story in which Houdini is shown going to the edge of Niagara Falls to rescue the girl.
Related Posts with some amazing photos from the John C. Hinson Collection and Kevin Connolly Collection: