Thanks to the efforts of Dorothy Dietrich & Dick Brookz of the Houdini Museum and their long-time friendship with Larry Weeks and their acquaintance with film producer Rick Schmidlin, Turner Classic Movies (TCM) acquired the Larry Weeks print of Houdini's 1919 feature, The Grim Game (TGG). Fred Pittella (Larry Weeks best friend) was also an essential part of the recovery of TGG. The recovered movie underwent a full restoration and had its world-premiere at the TCM Classic Film Festival in Hollywood on March 29th with a live score conducted by composer Brane Zivkovic. It was then shown in places like Wisconsin (Apr 16), Michigan (May 28), Pennsylvania (Jun 13, Jul 2), Texas (Jul 19), Finland (Aug 21), Scotland (Aug 22, 23), Illinois (Sept 16), New York (Sept 16), and England (Oct 11), before it was aired on the TCM network (Oct 18) with alternate scores, one by Brane Zivkovic and another by Steve Sterner.  And then as a grand finale, in November, John Bengston, "the great detective of silent film locations," revealed many of the Grim Game filming locations and historic LA landmarks.
[Harbour Apartments at 612 St. Paul Street; The Cahuenga alley; Bergstrom Estate 590 N. Vermont]
So 2015 was an amazing year for Harry Houdini Circumstantial Evidence (HHCE) because it was the year of the Grim Game.
Part I will cover the TGG highlights from HHCE and Part II will cover the other highlights from HHCE.
Let's get started. The Houdini news that I had been waiting years to hear finally arrived on January 23rd, 2015 in a press release from TCM: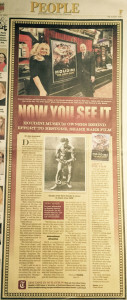 This was followed by a number of other press releases in February and March:
Then one week away from the premier of The Grim Game at the 2015 TCM Film Classic, HHCE shared a different Grim Game productions still each day leading up to the event on March 29, 2015:
In April, shared my review of The Grim Game and the Festivities in Hollywood:
In June, HHCE and TGG went to Scranton: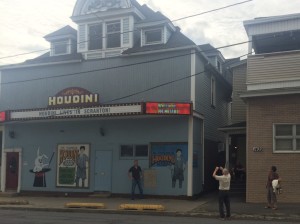 In July, TGG screens at a Magic Convention Once Again:
In October, The Grim Game made its television debut, but was first shown privately and publicly in August 1919:
Throughout the year, there were a number of posts on TGG music:
Other highlights on TGG included a series on Houdini Grim Game Cards throughout the years:
And sharing a number of posts related to the Aeroplane incident:
What a year for TGG, now if we could just get a DVD: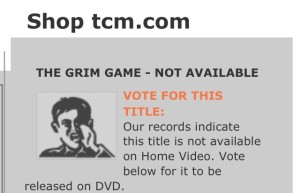 Photo Credits:
TGG film location images courtesy of John Cox and John Bengston
TGG Still images courtesy of A.M.P.A.S
TGG Movie Set image and TGG Souvenir Set image courtesy of Arthur Moses
B&W Aeroplane images courtesy of Cecil B. Demille Trust
Steve Sterner photo, TGG piano music, and Scranton Press release courtesy of Houdini Museum