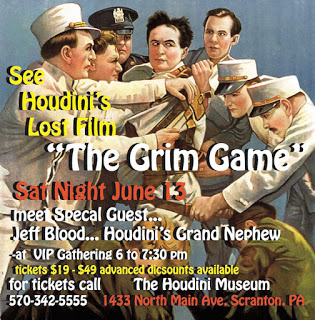 On Saturday Night June 13th, I will no longer be seeing the Scranton screening of The Grim Game at the Leonard Theater as previously reported, but I will be seeing it at its new venue, The Houdini Museum, in Scranton.   And I am going to get to see it with members of the Houdini family, including his grand-nephew, Jeff Blood; what an added bonus.   I can't wait.
Click the link below for a related article that was published today in the Scranton Times Tribune:
Click here for more screening details and ticket information.  No tickets will be sold at the door.