2016 was an amazing year for Harry Houdini Circumstantial Evidence (HHCE) because it was the year of the Master Mystery (MM).
Part I will cover movie highlights from HHCE and Part II will cover the other highlights from HHCE.
The year started out with a post about the Master Mystery opening in the State of New York the week of January 6, 1919 and that today footage is missing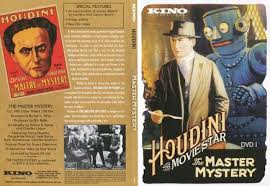 Well, it became my mission to find the missing footage and as much information as I could about the movie. 
So what did HHCE find?
Found out that the Master Mystery, opened in other states (e.g., Massachusetts, Pennsylvania) before New York, although it was shown at a special trade show on November 7, 1918 at the Strand Theatre in New York City, before it officially premiered in Boston on November 18, 1918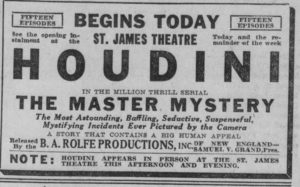 Found a DVD that contained a movie short from the Master Mystery.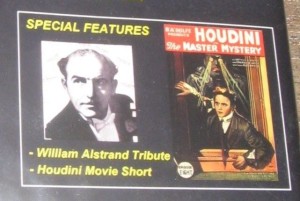 Found evidence of four films based on The Master Mystery.  Reviewed them all and launched a series of posts that took a close look at each one and end with a post that summed up the mystery of all of these movies.
Found that several versions of the 1918 serial exist on DVD, VHS, and in film archives. Reviewed them all and launched a series of posts that took a close look at each version, clarifying exactly what is missing and what is included.
Although all versions by themselves are incomplete, we can now piece together a complete 15-episode Master Mystery serial as it first appeared in 1918, and I can now say that I have seen all of the Master Mystery.
In addition to the Master Mystery, HHCE undertook the task of sharing/restoring what is missing from Houdini's Terror Island.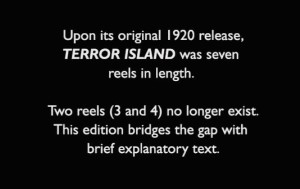 While Terror Island is missing two full reels (3 & 4), HHCE (in 2016) just tackled restoring the missing Reel 3 scenes by using photos and script excerpts.
Hopefully one day, we will get to see the complete Terror Island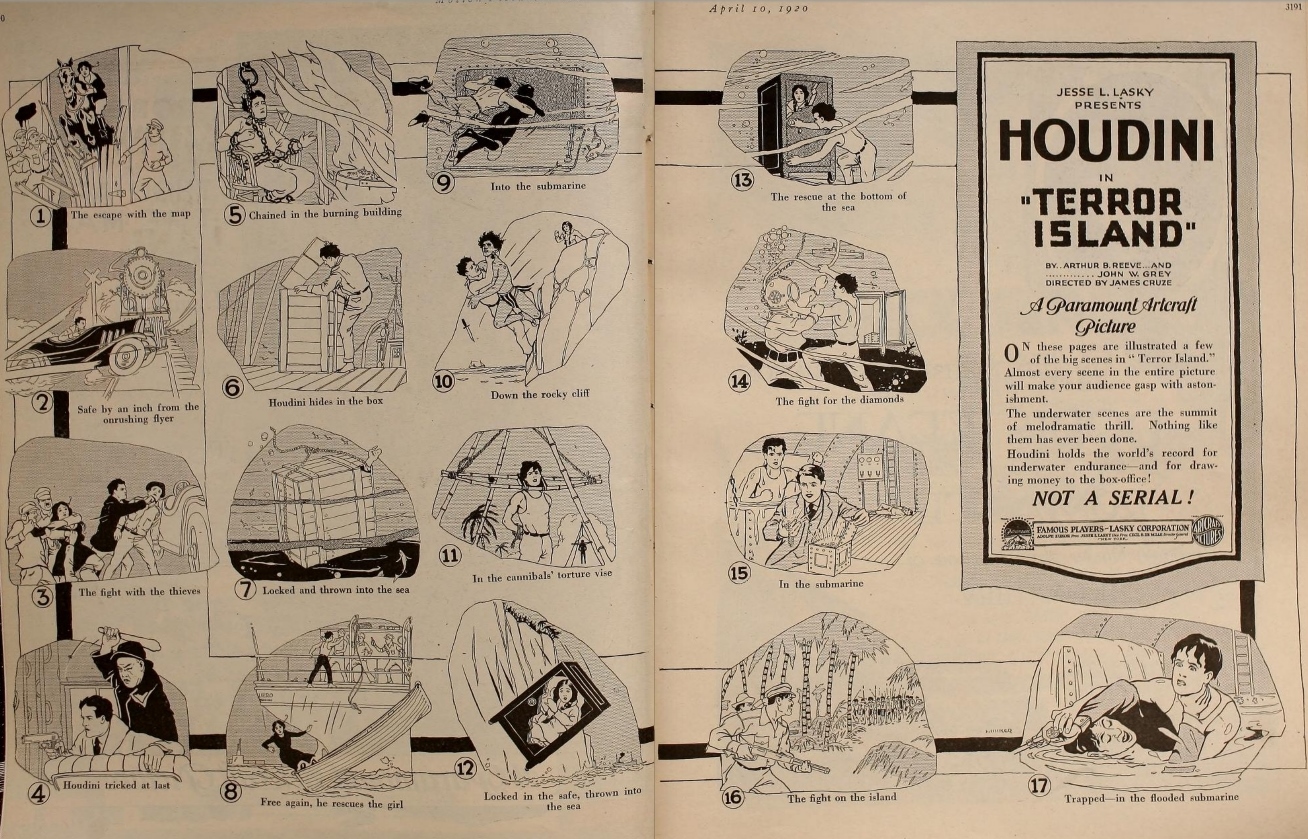 2015 was the year of The Grim Game and 2016 the year of The Master Mystery.
Is 2017, the year of Terror Island?
OTHER 2016 HHCE MOVIE RELATED POSTS:
Terror Island:
Terror Island/Grim Game:
The Grim Game:
Master Mystery: