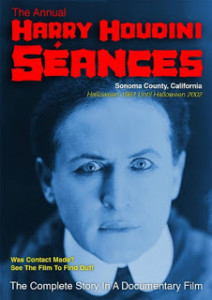 I recently acquired a DVD on eBay of The Annual Harry Houdini Seances – Sonoma County, CA.  This is the documentary by Tom Wyrsch that first screened at the Boulevard Cinemas in downtown Petaluma on November 3, 2012 and then premiered October 30, 2014 on the PBS station KRBC in Northern California.
From 1964 to 2002 authentic Harry Houdini Seances were held each Halloween Night in Sonoma County, California.  This documentary film tells the story of how the séances started, the secret locations where they were held, the people who attended, and if contact was made.  It was a 37 year annual Halloween event not to be forgotten.  Interviews, music, photographs, film footage, and narration tell the complete story.
Special Features on the DVD included: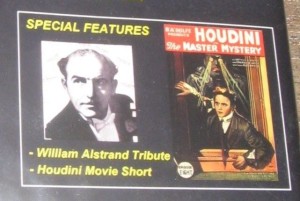 William Alstrand Tribute:
According to the DVD, William Alstrand was a San Francisco area professional stage show magician.  Mrs. Houdini entrusted Bill the secret coded message she and her husband had created in order to prove whether or not Houdini was really breaking through from the afterlife.
Alstrand attended many of the Sonoma County Seances despite his Houdini Séance experience on Halloween of 1954 where he said "never again":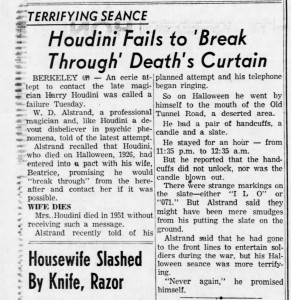 Houdini Movie Short:
I was curious to see what footage from The Master Mystery made up the Houdini Movie Short and if it included any missing footage.   Although not identified as such, it was obvious to me that this was footage from Episode 15, Bound At Last.   A quick check online confirmed my suspicion, that this was indeed Episode 15 which is not missing any footage as far as I know.
The DVD has a 2012 copyright from Garfield Lane Productions.