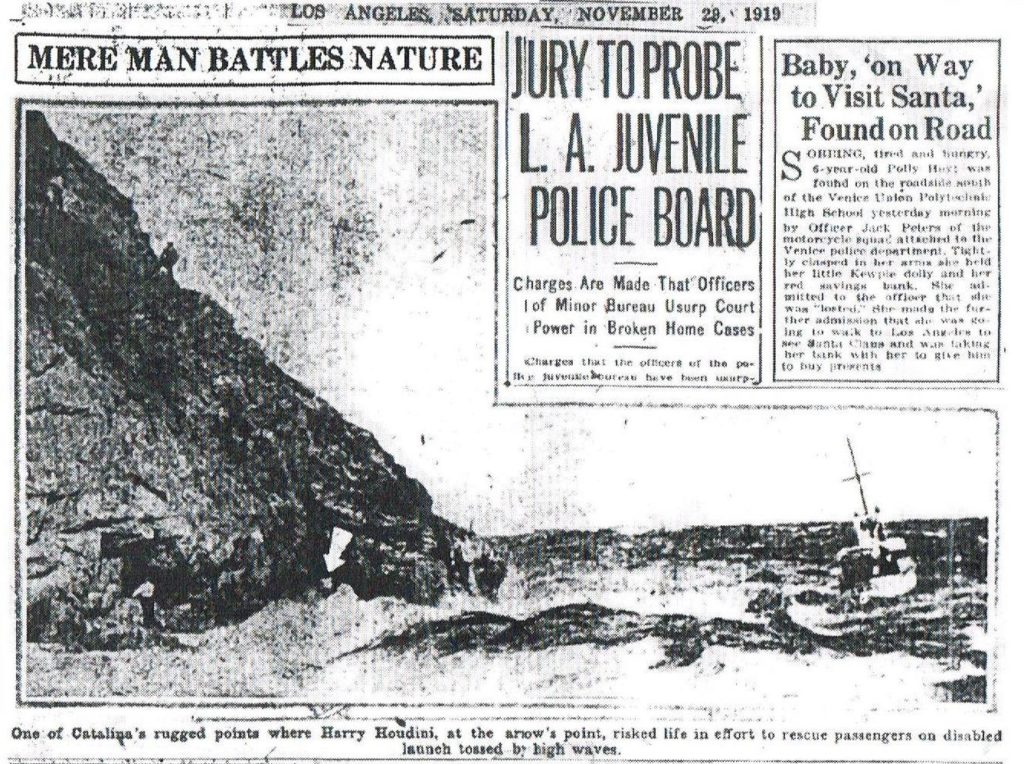 While filming a moving picture [Terror Island] on Catalina Island in California, he took part in a real-life nautical drama.  A small vessel had been disabled and was in immediate danger of capsizing or smashing into the rocks off Sugar Loaf Point. [The Witch of Lime Street]

In response to the crew's distress calls, Houdini quickly secured himself to a line and dove into the turbulent waters.  Shielding himself from the surf with a life preserver extended in front of him, he propelled himself with froglike strokes toward the stranded men – who, as if so directed, were waving and yelling for help.  While onshore a crowd in front of the Hotel St. Catherine cheered the star's effort to save them. [The Witch of Lime Street]
The scene did not unfold as it would have in one of his melodramas.  Exhausted, Houdini was cut on the rocks and battered almost unconscious.  He had to be saved by deep-sea divers.  It took a motor launch nearly forty-five minutes to cut through the waves and reach the party.  Even so, he wondered to himself if he could have pulled off the feat when he was younger. [The Witch of Lime Street]

300 feet of film at 20 fps (75 feet a minute) is 4 minutes of footage.
Where is this footage now?
Credits:
The newspaper photo and snippets are from the November 29th, 1919 Los Angeles Newspaper article reproduced by Patrick Culliton in The Tao of Houdini on page 153.
The italicized passages are from page 35 and 36 of The Witch of Lime Street by David Jaher.
Related: