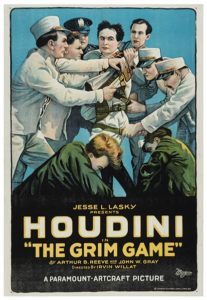 On June 25th, Potter&Potter will be having a Golden Age of Magic Posters the Nielsen Collection auction that will include a beautiful one sheet Grim Game Poster (See Lot 120 Description below).  For more details on other items being offered and a downloadable catalog, you can go to Potter and Potter website: http://www.potterauctions.com/.
The estimate for the Grim Game poster is $40,000/60,000.
Lot 120 Description:
Houdini, Harry (Ehrich Weisz). Houdini In The Grim Game. Cleveland: Morgan Litho., 1919. Iconic one-sheet poster for this silent film presented by Jesse Lasky, and featuring the world's most famous magician and escape artist, pictured at the center of the image in a straight jacket and being held back by a group of eight men, including police and hospital attendants. 28 x 41″. Minor restoration at old folds and a few tiny chips. A-. Scarce. Houdini starred in this stunt and escape-filled film opposite Ann Forrest, who played his fiancée. As Harvey Hanford, Houdini is framed for murder and falsely imprisoned, but escapes his jail cell and pursues the men who framed him and also kidnapped his fiancée. The film concludes with a mid-air collision of two airplanes, which was unplanned at the time of the filming, but was later worked in to the script to utilize footage of the crash, an event that had, until that time, never been captured on film. The movie was directed by Irvin Willat and featured a story by John Grey and Arthur Reeve. Produced by Famous Players-Lasky, it was distributed by Paramount Artcraft Pictures. All posters advertising this film are scarce and desireable, as they combine the allure of the silent film era with the unforgettable and iconic escapes that made Houdini the most famous magician of the century.
UPDATE:
The one-sheet for Houdini's The Grim Game sold for $24,000 (including buyer's premium) with just one bid! It fell well below the estimate.
Related: