As promised in my last post, here is evidence of another one of the four films based on The Master Mystery – The Law Pirates.
The first ads that I could find are from October 31, 1920.  Below are a couple of them.
[The Pittsburgh Press, Pittsburgh Pennsylvania]
So what was the gist of The Law Pirates.
According to an ad for the Colonial Theatre, dated Nov 17, 1920, it was:
"Reaiizing the menace that the future wars will bring by the deadly submarine the government has placed a premium on all devices that will overcome it.  A poor inventor has perfected a wonderful submarine suit and in seeking aid in his experiments interests Houdini. A band of 'law pirates' headed by a clever but unscrupulous lawyer try to steal the invention."
[The Daily Gate City and Constitution Democrat, (Keokuk, Iowa)]
[The Journal News, (Hamilton, Ohio)]
And from ads for the Grand Theatre, dated Nov 19, 1920, we know that Houdini is Very Pleasing in "The Law Pirates":
"Houdini is just as mysterious an ever in 'The Law Pirates' in which he is now being seen at the Grand theatre.  Houdini is just naturally a man of mystery and in 'The Law Pirates' he does all kinds of thrilling mysterious things.  Big houses saw the initial presentation of this picture last night and everyone was pleased.  It remains the attraction at the Grand today and tomorrow with 'The Water Plug', a clever comedy as the added feature."
[Hamilton Evening Journal (Hamilton, Ohio)]
"Unusually large houses greeted Houdini in 'The Law Pirates' at the Grand last night.  Houdini is becoming quite a screen favorite in Hamilton especially among those who like mystery and action and Houdini is not anything if he is not mysterious."
[Hamilton Evening Journal (Hamilton, Ohio)]
And from ads, dated Dec 13 and 14, 1920, we learn the following:
"Supported by Ruth Stonehouse in this great picture Houdini will be seen as an inventor of a device for the government to overcome the deadly submarine and a band of parties seek to steal it.  If you have seen Houdini in 'Terror Island' you know him as the man of mystery."
[The Gettysburg Times, (Gettysburg, Pennsylvania)]
And from an ad, dated March 10, 1921: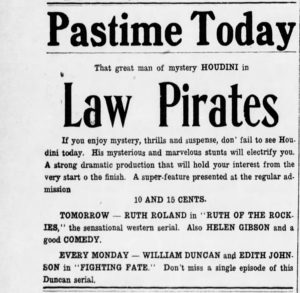 [The Public Ledger, (Maysville, Kentucky)]
October 1921 is the last time I could find an ad for the picture.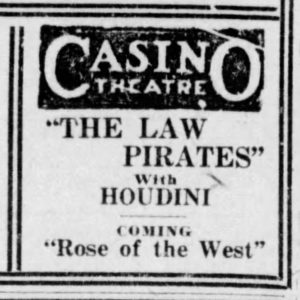 [The Des Moines Register, (Des Moines, Iowa)]
Next week:
Lost Houdini Film(s) Based on The Master Mystery – The Doctor's Vengeance