Well, back in May 2013, Bill Mullins, over at the Genii Forum shared two December 1920 advertisements for Houdini appearing in the film "The Marked Woman".  And John Cox over at Wild About Harry followed up with a post about the ads titled, A Houdini movie mystery.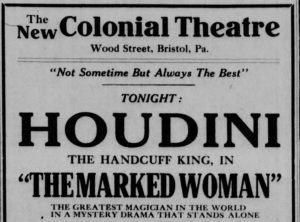 [The Bristol Daily Courier, Nov 30, 1920]
Well, not only have I found additional ads (see above for one) for The Marked Woman, but I have found evidence for three other films based on The Master Mystery.
The Lure of Power
The Law Pirates
The Doctor's Vengeance
In the coming weeks, I will do separate posts for each of these other three films and end with a post that sums up the mystery of all of these movies.
Meanwhile, let's take a closer look at The Marked Woman:
The first ads that I could find are from November 1920.  Below are from the Princess Theatre in San Antonio, Texas: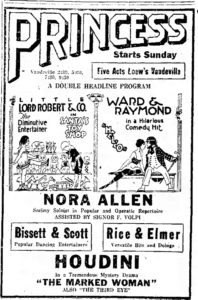 [San Antonio Evening News Nov. 13, 1920]
[San Antonio Evening News Nov. 15 and 16]
So what was the gist of the mystery drama, titled The Marked Woman.  According to an ad for the New Colonial Theatre, dated Nov 30, 1920, it was:
"One of those gripping stories in which two women fight for an immense fortune.  One uses fair means — the other foul.  Everything seems to work against the rightful heir and clever band of crooks operating with perfect accord seems to have the fortune within their grasp many times only to be frustrated by Houdini."  [The Bristol Daily Courier, Bristol, PA]
And from December 1920 ads, we know that the "hand-cuff King Houdini the man of mystery is supported by Ruth Stonehouse and an all star cast [Charles E. Graham, Marguerite Marsh, Wm. Pike]".
The Gettysburg times ad from Dec 27, 1920 lists the price for Adults as 20 cents and 15 cents for Children, but the next day ad for Dec 28 lists the price for Children as 10 cents, not 15 cents.
We also know from the ads that the picture is "not a serial, but a five reel drama of mystery by the world's greatest magician".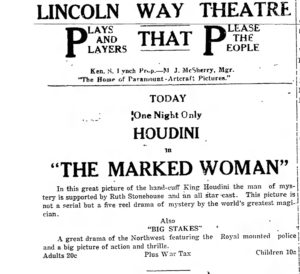 July 1921 is the last time I could find any ads for the picture.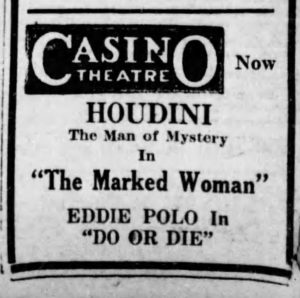 [The Des Moines Register Jul 13 and Jul 14, 1921]
Next week:
Lost Houdini Film(s) Based on The Master Mystery – The Lure Of Power