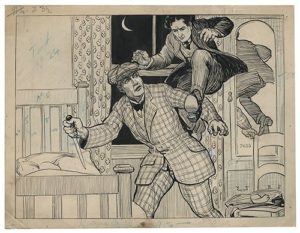 The very nice publicity illustration above just sold ($1600) at the Potter & Potter Auction for the Magic Collection of David Baldwin.  Congratulations to the winner!
Below is the auction description:
LOT 0288 DETAILS

[Houdini, Harry (Ehrich Weiss)] Ogle, R.B. Original Publicity Illustration of Houdini. Circa 1920s. Pen and ink on paper, possibly depicting a scene from The Master Mystery (1920), in which Houdini is shown climbing through an open window into a bedroom at night and bearing down on a man wielding a dagger. "Kinema Comic" annotated in pencil in lower margin, with scattered printer's annotations and stamps. Artist's name identified on verso. 10 x 13″. Old central vertical fold.
The description mentions that it is "Possibly Depicting a Scene from The Master Mystery".
Well, we know the artist R.B. Ogle has created Aeroplane sketches for Kinema Comic that depict scenes from The Grim Game.  The originals (seen below) are now in the Arthur Moses Collection which I was fortunate enough to see in person.
Since I have finally seen all of The Master Mystery, plus studied the script, synopsis, and book, I feel that I am qualified to answer the question if the publicity illustration sold by Potter & Potter auction depicts a scene from The Master Mystery.  The short answer is, No.
That said, Episode 11 of The Master Mystery has an incredible scene in a deserted shack,where the Madagascan Strangler attempts to stab Houdini that I would like to describe.
The following are two title cards from Episode 11:
FOREWORD

At Paul's instigation, Eva has

been abducted; and one of his

followers disguised as a minister,

attempts to perform a false mar-

riage ceremony.
—while Quentin Locke has been

bound and placed under the

coverings of a sofa, where he

is left to the tender mercies

of the Madagascan.
While Eva is being married to Paul against her will, the Madagascan Strangler thrusts a knife into the form of Locke (Houdini) laying on the sofa.  To his surprise, the Madagascan is caught at his ankles and thrown to the floor.  Houdini had shifted his position to meet the expected attack and ironically "strangles" the Madagascan Strangler.
A little later in Episode 11, they flashback and reveal exactly how Houdini caught the Madagascan off guard:
Houdini all tied up is seen rolling out from the sheet in the back of the sofa where he escapes his bonds.  He then rolls underneath the sofa as the Strangler approaches with the knife.
Note: This scene only appears in the movie, it does not appear in The Master Mystery Novel.