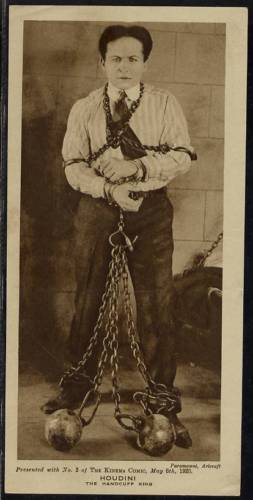 This is a large paper insert issue given away with comics.  It measures 212mm x 103mm.
The writing at the bottom of the card reads:
Paramount-Artcraft
Presented with No. 3 of the Kinema Comic, May 8th, 1920.
HOUDINI
The Handcuff King
Note: Paramount-Artcraft was the picture company that made "The Grim Game".  The Handcuff King image on the card is from still L302-55: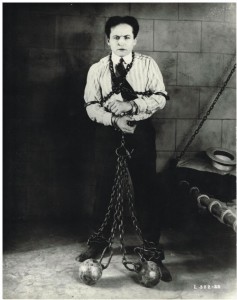 According to Arthur Moses, the British Boys weekly "The Kinema Comic" ran a serial "The Amazing Exploits of Houdini" ("Written by Houdini Himself" – or so it says) and always began on page 6 and continued on to others.  These were tales of pure fiction with maybe 2% fact thrown in. The weekly serials began with the v1n1 April 24, 1920 issue.
Harold Kellock says in his book "Houdini His Life-Story" (1928) that "The Kinema Comic" serial ran for seven years.