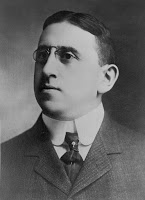 Which city did Martin Beck first meet Houdini?
[A] Woodstock, Illinois
[B] St Paul, Minnesota
[C] Kansas City, Kansas
[D] None of the above
Let's explore each of the possible answers.
[A] At one point, the Wikipedia article on Harry Houdini included the following claim:
"Houdini's big break came in 1899, when he met manager Martin Beck in rural Woodstock, Illinois."
However no source was cited.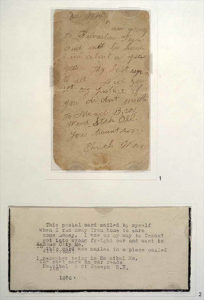 FWIW:   The Postcard above sent by twelve-year old Ehrich Weiss to his parents after he ran away from his Milwaulkee home in 1886, directs his family to write in care of "Mead Bros Woodstock Ill."
[B] The Wikipedia article on Houdini now claims:
"Houdini's big break came in 1899 when he met manager Martin Beck in St. Paul, Minnesota."
And every major Houdini biographer recounts the story of Houdini and Beck meeting in St. Paul;
So what is their source? It is from an article by Harry Houdini in The Magician Annual, No. 3 (1909-10) page 17:
When working at a small hall in St. Paul, a party of managers, while sight-seeing, happened to come in.  They saw my performance, became impressed with the manner in which I presented it, and one of them, Mr. Martin Beck, perhaps more in a joke than sincerity, challenged me to escape from one of his handcuffs.  He had none with him, but the next day purchased a few pairs and sent them on stage. I escaped! He then booked me for one week, and it was the first chance I ever had, and my act in a first-class theatre created a sensation.
[C] According to Hardeen, Martin Beck finally caught Harry's act in a beer garden in Kansas City, became his manager and booked him to the Coast.  FWIW:  Houdini performed at the Orpheum Theatre, Kansas City, KA after he performed at the Palm Garden, St. Paul, MN and Creighton-Orpheum Theatre, Omaha Nebraska.
Or is it [D] none of the above. That is, Is the story of Beck challenging Houdini in a Beer Hall/Garden fiction?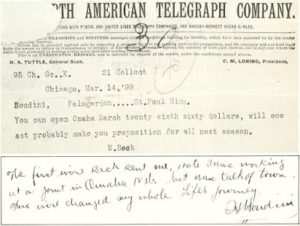 John Cox, in a well-researched post on Houdini in 1899, mentions this possibility:
But on March 14, Houdini received a telegram from Beck that changed his life:

Beck's statement that he would "see his act" in Omaha makes me wonder if the story of Beck challenging Houdini with cuffs at the Palm Garden might be mythology. It always struck him a little odd that a man like Beck would be trolling beer halls for acts.  Perhaps it was a scout who saw Houdini and alerted Beck.  Or maybe Beck had learned of Houdini via the "strolling magician" article a few months earlier.
According to Houdini's account, a party of managers (which included Martin Beck) was sight-seeing and just happened to stop in the beer hall and catch his act.
My vote is none of the above, and that their first meeting was in Beck's Omaha, NE theatre.  Do you agree?