Gloria Swanson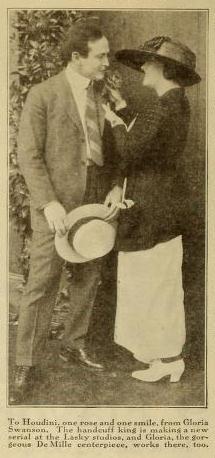 [Photoplay September 1919, page 102]
To Houdini, one rose and one smile, from Gloria Swanson. The handcuff king is making a new serial at the Lasky studios, and Gloria, the gorgeous Demille centerpiece, works there, too.
The following is an excerpt from Kalush,The Secret Life of Houdini, page 358:
Houdini was excited at the prospect of doing features. "I am drifting away from vaudeville, and with the exception of my European dates have no plans re a return".  Where he was drifting to was Hollywood, where the temperature climate and the chance to rub elbows with other movie stars were appealing to him.  He became friendly with stars like Charlie Chaplin and Fatty Arbuckle and spent time on the Lasky set with a young sultry star named Gloria Swanson.  She sent him an autographed photo ("To Mr. Houdini, Please show me some of your tricks. Most sincerely, Gloria Swanson") that he kept in one of his scrapbooks.
See page 222 of The Secret Life of Houdini Laid Bare for another publicity photo (i.e., different than Photoplay photo above) of Houdini with Gloria Swanson that is from the collection of Bruce Averbook.
Ann Forrest
The photo below is misidentified on page 360 in earlier releases of The Secret Life of Houdini as Harry gets cozy with a young Gloria Swanson; this photo is actually Houdini and a young Ann Forrest (Houdini's co-star in The Grim Game).  Houdini appears to be
wearing the same outfit (i.e., suit, tie, shoes, and strawhat) in this photo with Ann Forrest as the photos with Gloria Swanson.