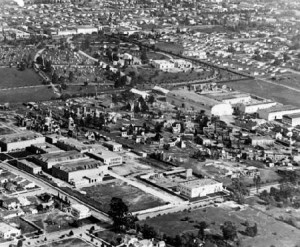 Houdini came to Hollywood, California in 1919 to film his two features (The Grim Game and Terror Island) for the Famous Players Lasky. The Famous Players-Lasky Backlot sat on the corner of Vine Street and Selma Avenue in Hollywood.  Click here to see other photos of the backlot.  See below for images of Houdini on the backlot.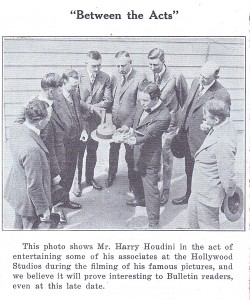 The photo above is from my copy of the Magical Bulletin (April 1921 Vol. 9, No. 4). It shows Mr. Harry Houdini in the act of entertaining some of his associates at the Hollywood Studios during the filming of his famous pictures.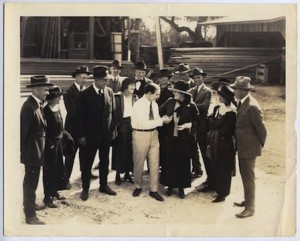 The photo above sold on eBay back in July. It shows Houdini standing on what is most likely the Famous Players-Lasky studio backlot.
To see another fantastic photo of Houdini on the Famous Players Lasky backlot, check out John's blog at WildAboutHoudini.com titled, Houdini in HOLLYWOOD; the image on the blog is from Arthur Moses Collection.