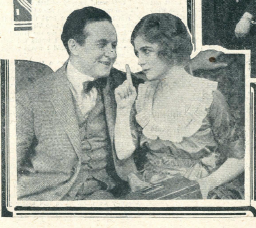 This photo (Still 289-21) is one of 5 photos that appeared in a 1920 Cinema Chat Ad for The Grim Game.
So what is going on in this photo?
Harvey Hanford [Harry Houdini] has snuck into the Cameron home to visit Mary Cameron [Ann Forrest].
They are seated in the Cameron Library by the window.
Harvey tells Mary, "You don't need a key for this kind of box – open it like this – "
Harvey gives the box several sharp blows on the end to jar back the lock – then opens the cover.
[Scenes 25 – 42 paraphrased from Paramount Script]