Thanks to Chuck Romano, who recently commented on John Cox excellent post on the owners and occupants of 278, we learned that Houdini's House at 278 W 113th Street in New York City was a Sigma Alpha Mu fraternity house at one time: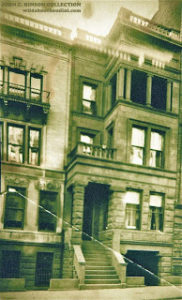 278 was definitely rented to students in 1917-18. Several students belonging to the Sigma Alpha Mu fraternity were listed in "Banta's Greek exchange: published in the interest of the college fraternity world" with the address of 278 W. 113th St. The founders of Sigma Alpha Mu were all of the Jewish faith, and the fraternity naturally attracted men of the similar background.
This made me recall another Houdini connection to the "Sigma Alpha Mu fraternity house" that Patrick Culliton (aka Houdini's Ghost) shared on the magic cafe:
I hate to quote this much from Don Bell. Everyone who is interested in this subject should buy his book.

Sam Smiley:

A month or so later they tell me there's a letter for me in the Dean's office. It's from Ernst, Fox and Cane, the New York attorneys. They said, we understand you and your friends were in Houdini's room, and one of your friends struck the blows, and so forth, we understand it was purely accidental. Our sole interest is in collecting on a double indemnity accident insurance policy for Mrs. Houdini. Would you help by telling us what happened?

I showed the letter to Harry Cohen, a lawyer who was living at the Sigma Alpha Mu fraternity house with us on Shuter (now Aylmer) Street. He said I should write it right down. I did. But I said, before recounting what occurred I want to make two observations: there were three persons in the room when the blows were struck, and the blows were struck by the third person, not by my friend or myself. The New York attorneys wanted to put it into affidavit form and I recommended Harry: and he was very grateful.

And he gets in touch with this fellow Whitehead. Cohen had had a peritonitis operation himself and he had this band around his waist and some of the bad matter was still oozing out of the wound. He tells me that when Whitehead came in for the affidavit, he was very arrogant and laughed about the incident, not in the least penitent. "Oh, it was nothing at all," he says to them, "let me show you how I did it." "No, no, don't show me," Cohen tells him. He thought Whitehead might be crazy enough to punch him in the abdomen like he did to Houdini.
So, Houdini definitely had ties to the Sigma Alpha Mu Fraternity House in New York and Montreal.  Something to ponder?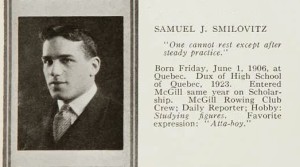 Related:
Photo Credits:
John Hinson Collection via WildAboutHoudini.com
McGill University Yearbook