Congratulations to the winner(s) of the above two photographs (Lot 304 and Lot 308) that sold at the Potter & Potter Spring auction on April 8, 2017 for $1500.00 and $1000.00, respectively.
304. Houdini, Harry (Ehrich Weiss). Candid Photograph of Houdini Aboard a Ship, Annotated by Houdini. Circa 1919. Houdini stands at the center of the deck, his arms wrapped around his wife, Bess, and a girl identified as Lila. Another woman, identified by Houdini as "Minnie" sits at his left. The annotations in ink on the image are in Houdini's hands, with a later inked in date of 1919 at the lower left. 4 x 3 ¼". Scrapbook remnants on verso, else good.

308. Houdini, Harry (Ehrich Weiss). Photograph of Houdini and Company Aboard a Train Car. Circa 1920. Houdini and eight other individuals, including his wife Beatrice, stand on the rear of a train car. Houdini, at the left, has one arm outstretched. Old ink notation in the lower margin identifies several of the individuals. Possibly taken during the production of a Houdini movie. 7 x 5". Corners with slight damage.
These are amazing photographs for a number of reasons:
The girl identified as Lila is none other than Lila Lee, Houdini's co-star in the movie "Terror Island" (TI).
The woman identified as Minnie in Lot 304 may very well be Minnie Mooser, sister of Hattie Mooser.  Both knew Houdini well. Both women were born in Nevada, Hattie in 1878 and Minnie in 1881, but grew up in Sacramento and lived in Los Angeles before ultimately moving to San Francisco.
There is speculation that Houdini may have been romantically involved with Lila and Hattie:
The man identified as J. Cruze in Lot 308 is none other than James Cruze, the director of "Terror Island".
The photos most likely were taken while Houdini was filming the movie "Terror Island" on Catalina Island and Riverside respectively.  Houdini appears to be wearing the wooly jacket and light pants found in a number of stills for the movie. Still 318-9 can be seen below for comparison.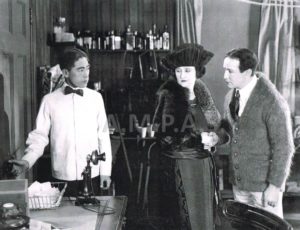 In addition to the photos, a nice Houdini Terror Island Movie Program (Lot 313) sold for $850.00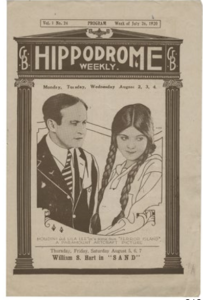 313. Houdini, Harry (Ehrich Weiss). Houdini Terror Island Movie Program. The Hippodrome Weekly, Vol. 1, No. 24 for the week of July 26, 1920, featuring Houdini and Lila Lee in a scene from Terror Island on the front wrapper. The interior features a "rhymed interview" regarding the film, and the program. Small 4to. Uncommon.