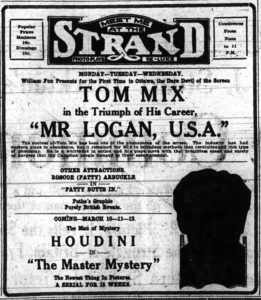 According to the Exhibitors Herald and Motography Canadian Film News:
Manager Archie Laurie of the Strand Theatre, Ottawa, put over a neat stunt on the occasion of the presentation of the first episode of "The Master Mystery."  Laurie seized the opportunity to secure considerable publicity by reason of the fact that a horse named "Houdini" won a race at New Orleans on the first day of the run, Monday, March 10 [1919].  The horse was a 10 to 1 shot, which fact made the boost more interesting.  He got in touch with the sporting editor of The Ottawa Journal, who readily consented to feature the winning of this horse in the report of the races.  The newspaperman also referred to the horse as "The Master Mystery" and then used a portion of his comment column to tell how a local race track devotee had cleaned up a pile of money by noting that Houdini was being featured at the local theatre on the same date as the horse was scheduled to run at Jefferson Park track down South.  As a result of this publicity, all the sport followers around town were talking about the hunch which the Strand Theatre had provided.
Laurie clipped the race report and the sport comment from the paper and placed them in a large frame in the theatre lobby.
Related: